The Cleveland Orchestra Presents Star-Spangled Spectacular!
The Cleveland Orchestra announces additional program details for its 30th annual free community concert in downtown Cleveland, which takes place rain or shine on Wednesday, August 7 at 9:00 p.m. This year's Star-Spangled Spectacular, brought to you by Cuyahoga Arts & Culture and sponsored by KeyBank, will be held on Cleveland's spacious Mall B, located at 300 St. Clair Avenue, between the Global Center for Health Innovation and Cleveland Public Auditorium.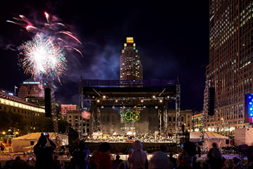 Led by guest conductor Loras John Schissel, this annual presentation celebrates our nation and our extraordinary Northeast Ohio community with music performed by The Cleveland Orchestra.
On social media follow along and share your Star-Spangled Spectacular memories with the hashtag #StarSpangledCLE.
Previously announced information from May 2019 can be found at the following link: https://www.clevelandorchestra.com/News-and-Updates/News-Releases/2019-releases/2019-05-09-star-spangled-spectacular-concert/.
July 23 UPDATE: The complete Cleveland Orchestra concert program including music by John Philip Sousa, George Gershwin, Leroy Anderson and John Williams is available below in the Calendar Listing section.
July 23 UPDATE: Pre-concert Events
Before The Cleveland Orchestra takes the stage, audience members will have an opportunity to enjoy a variety of engaging activities, including:
Photo Ops: You'll have a chance to take posed pictures against star-spangled themed cut-out boards. In addition, there will be an information tent at the top of the hill with volunteers prepared to answer questions and provide complimentary brochures about The Cleveland Orchestra and Cuyahoga Arts & Culture.
Pre-concert Musical Presentations: From 7:00 – 8:00 p.m., you can listen to live music by special guest performers, including Cleveland Police Pipes & Drums, whose unique blend of music and marching skills have entertained audiences across the United States, Canada, and Ireland for more than two decades.
Dining Options: Dotting Mall B will be an assortment of local food trucks, including Beckham's B&M Barbeque, 216 Bistro, Barrio Tacos, Chef Grey Wolf, East Coast Custard, and Nom Nom Popcorn.
Live Broadcast and Streaming (July 23 Update)
As part of the Orchestra's ongoing commitment with ideastream — Northeast Ohio's innovative public multimedia source — to provide greater access to music and culture for the citizens of Cuyahoga County and beyond, the Star-Spangled Spectacular will be streamed live on clevelandorchestra.com, The Cleveland Orchestra Facebook page and YouTube channel. The concert will also be broadcast by radio on 90.3 WCPN, WCLV 104.9, and online at ideastream.org.
Rain Location Details
In case of inclement weather, the Star-Spangled Spectacular will be held at the Cleveland Public Auditorium, located next to Mall B at 500 Lakeside Avenue. The Cleveland Orchestra will announce any location changes through Facebook, Twitter and Instagram on August 7, as well as across local media outlets and onsite at Mall B. Seating at Cleveland Public Auditorium will be general admission.
Family Workshops
A pair of free Star-Spangled Spectacular Family Workshops will take place in partnership with the Cuyahoga County Public Library on Tuesday, August 6 — at their branches in Solon (10:00 a.m.) and Berea (6:30 p.m.). These unique workshops will preview the music and help families prepare for the following day's special performance.
Mall B Location and RTA Public Transportation Details
Located a few blocks northeast of Public Square, between the Global Center for Health Innovation and Cleveland Public Auditorium on St. Clair Avenue, Mall B is a grassy field that's ideal for watching the concert while relaxing on a blanket or low lawn chair.
Attendees are encouraged to take the Regional Transit Authority (RTA) to the event. RTA's Red, Blue, and Green lines run until midnight, with free parking at most of the train stations. Mall B is a five-minute walk from RTA's Tower City Station. Additionally, the RTA HealthLine operates 24/7 from Windermere's Louis Stokes Station to Public Square. Visit www.riderta.com for current routes and schedules.
About Cuyahoga Arts & Culture
Cuyahoga Arts & Culture (CAC) is one of the largest public funders for arts and culture in the nation, helping hundreds of organizations in Cuyahoga County connect millions of people to cultural experiences each year. Since 2007, CAC has invested more than $182 million in more than 400 organizations both large and small, making our community a more vibrant place to live, work, and play. For more information, visit cacgrants.org.
This community celebration is supported by the residents of Cuyahoga County through
a public grant from Cuyahoga Arts & Culture.
This concert is brought to you by Cuyahoga Arts & Culture and sponsored by KeyBank.
Additional support from Greater Cleveland Regional Transit Authority in collaboration with media partnerideastream and in coordination with logistical partners City of Cleveland and Downtown Cleveland Alliance.
CALENDAR LISTING
The Star-Spangled Spectacular
Brought to You by Cuyahoga Arts & Culture and sponsored by KeyBank
Featuring The Cleveland Orchestra
Date: Wednesday, August 7, 2019 at 9:00 p.m.

Cleveland Orchestra Concert
Times:
6:00 p.m. — Pre-concert jumbotron video presentations / Information tent and food trucks open
7:00 p.m. — Pre-concert performances
9:00 p.m. — The Cleveland Orchestra concert begins
10:15 p.m. — Approximate conclusion of concert, followed by fireworks (weather permitting)
Location:
Mall B in downtown Cleveland
Between Lakeside and St. Clair Avenues
Rain Location:
Cleveland Public Auditorium, 500 Lakeside Avenue (general admission)

July 23 UPDATE: Concert Program at a Glance
The Cleveland Orchestra
Loras John Schissel, conductor
SMITH                               The Star-Spangled Banner
GOLDSMITH                     Closing Credits: Star Trek the Motion Picture
WILLIAMS                         Overture: The Cowboys
SOUSA                               March: The Black Horse Troop
ANDERSON                       Serenata
GERSHWIN                       Hocter's Ballet from Shall We Dance
VARIOUS                           Armed Forces Salute
WILLIAMS                         Adventures on Earth from E.T.
WARD                                America, the Beautiful
SOUSA                               March: The Stars and Stripes Forever
July 23 UPDATE: Cleveland Food Trucks
Open at 6:00 p.m.
Mall B in downtown Cleveland
Food truck vendors confirmed for the event are 216 Bistro, Beckham's B&M Barbecue, Barrio Tacos, Chef Grey Wolf, East Coast Custard, and Nom Nom Popcorn.
All artists and programs are subject to change.
Tess Abney is a freelance writer who was born and raised in the Quad Cities. She spends most of her time attempting to successfully raise three boys. In her free time, writing is her passion. Whether it is sharing local events and businesses with readers or sharing her thoughts on life, she finds comfort in the way words can bring people together.