Gas Masks, Nela Park and the Cleveland Mousetrap
Life, the Universe & Hot Dogs!
Free & Open to the Public!
via zoom at https://cwru.zoom.us/j/633845890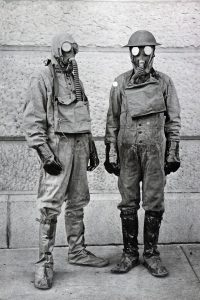 "Gas Masks, Nela Park and the Cleveland Mousetrap"
Michael Fricke, Ph.D.
Chair, Akron Section of the American Chemical Society
The United States declared war on Germany on April 2, 1917. Three weeks after the United States entered World War 1, gas mask development moved to a suburb of Cleveland called Nela Park. A partnership between the U.S. Bureau of Mines, Frank Dorsey of the National Lampworks Company and engineers from the National Carbon Company worked to develop prototype gas masks. Cleveland was chosen because there was more knowledge concerning charcoal chemistry than anywhere else in the country. Within a month, the Secretary of War had ordered one million masks to be designed and produced. The offensive side of Chemical Warfare Service soon followed into Cleveland as well. Harvard Chemistry Professor James Conant came to Willoughby to supervise construction of a 30-acre site tasked with producing the warfare agent Lewisite. This plant was nicknamed "The Cleveland Mousetrap" because of the secrecy – as in "What goes in never comes out."
Michael Fricke is a PhD chemist and current chair of the Akron American Chemical Society. Dr Fricke is an expert on arsenic chemistry and discovered dimethylthioarsinic acid (DMTA) which has proven to be a key metabolite in the toxicity associated with low-level chronic arsenic consumption.
via zoom at https://cwru.zoom.us/j/633845890
---
For more fun things to do in Cleveland this week, check out the latest issue of Fun10Cleveland. 
Tess Abney is a freelance writer who was born and raised in the Quad Cities. She spends most of her time attempting to successfully raise three boys. In her free time, writing is her passion. Whether it is sharing local events and businesses with readers or sharing her thoughts on life, she finds comfort in the way words can bring people together.