10 Fun Things To Do Week of May 24th: Zoo Cruises, Wine Tastings, Music and MORE!
OnCleveland.com proudly presents a brand-new new feature, FUN10, a list of the top 10 things to do in the Cleveland this week, and every week! Every Sunday, we'll drop a new FUN10, to give you a head start on your week and a heads up on what's going on over the coming seven days. Check out FUN10 every Sunday for the details on ten awesome events happening around town. It's a cool read, and a great way to get started planning your entertainment for the week.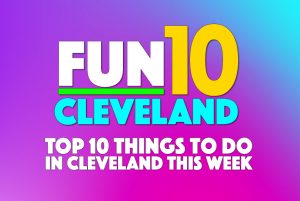 Due to the cancellation of so many regularly scheduled events in Cleveland – with more coming in every hour – we're focusing this week's edition of Fun10Cleveland on fun entertainment you can enjoy in the safety of your own home or while practicing safe 'social distancing'.
FUN10 — ten ways for you to have fun in the Cleveland, this week and every week, running every Sunday, only on your site for fun, free, local entertainment, OnCleveland.com!
So what's on the FUN10 for this week? Read on …
Mystery of Easter Island Launch
Discover the Mystery of Easter Island! A new audio drama podcast about one of the most interesting women you've never heard of.
The official launch of the Mystery of Easter Island podcast is this Tuesday May 26 at 11 a.m.
Written by Justin Glanville and directed by Mindy Childress Herman, produced by Footsteps Media LLC.
Recorded in studio and in front of a live studio audience at Cleveland Public Theatre. At the onset of the COVID-19 pandemic, our creative team creatively finished recording the series via Zoom.
For more information, visit https://www.facebook.com/MysteryOfEasterIsland.
Cribbs in the CLE: Josh and Maria Live Returns!
Are you ready, Cleveland? New episodes of Cribbs in the CLE return this Tuesday May 26!
Cribbs in the CLE: Josh and Maria Live is a talk and entertainment show, airing weekdays at 9:00-9:30am on WOIO CBS 19, and again at 7:00-7:30pm on sister station CW 43 WUAB.
The show will focus around former Browns star player Josh Cribbs and his wife, blogger and personal trainer Maria Cribbs, as they discuss local and national headlines, relationship and parenting topics, health and fitness, entertainment headlines, and showcase points of interest across Northeast Ohio.
For more information, follow Cribbs in the CLE on Facebook at https://www.facebook.com/CribbsintheCLE/.
Mrs. Morhard and the Boys Virtual Paperback Book Launch
Author Ruth Morhard joins the Baseball Heritage Museum via Zoom to talk about her popular book Mrs Morhard and the Boys on Tuesday May 26 at 7 p.m.
As the Great Depression brought America to the brink of disaster, a devoted single mother in Cleveland, Ohio, wrestled triumph out of adversity by creating a community activity that would inspire the nation.
Josephine Morhard never waited for something to happen. At twelve years old, fiercely independent Josephine left her family's Pennsylvania farm to start a new life. Coming of age during one of the most devastating times in America, and weathering two bad marriages, Josephine put her personal problems aside to insure a productive future for her daughter and son. But Junior was a volatile boy of eight—until his mother came upon a novel sports idea to encourage discipline, guidance, and self-worth in her son. Out of a dream, an empty lot, and the enthusiasm of other neighborhood kids, Josephine established the first boys' baseball league in America. Her city—and the country—was watching.
Beyond all expectations, the Cleveland Indians rallied behind her project. Indians legends Bob Feller, Jeff Heath, and Roy Weatherly helped hone the boys' skills; renowned sports reporter Hal Lebovitz became an umpire; and they were given permission to play in historic League Park. All the while, as Josephine's Little Indians graduated into the Junior American and Junior National Leagues, and finally a Little World Series, she instilled in her boys strong values, good sportsmanship, and an unprecedented sense of accomplishment. Some of them, like Ray Lindquist and Jack Heinen, would become Minor League players. Not one of Mrs. Morhard's boys would ever forget her.
In this stirring biography of an unsung American heroine, Josephine Morhard's daughter-in-law recounts the extraordinary life and accomplishments of a resilient, selfless, and determined woman. Her inspiring true story—a long time coming—is something to cheer for.
YOU MUST REGISTER HERE TO RECEIVE THE LOGIN INFORMATION
Cruise the Cleveland Metroparks Zoo
Join the Cleveland Metroparks Zoo (3900 Wildlife Way Cleveland) this week for Cruise the Zoo!
Cruise the Zoo presented by Dollar Bank offers guests a chance to visit with the animals of the Zoo including giraffe, elephants and bears from the safety of their vehicle. Don't miss this limited-time, fundraising event.
Click here to purchase tickets today.
15 minutes of…
The Museum of Contemporary Art Cleveland presents a new online program, '15 minutes of…' Beginning Wednesday May 27, every week a local artist will create a work of art in only 15 minutes.
moCa will post an image of the artists' efforts; then for a chance to make it your own, let them know what you love about the art in a comment to be entered into a raffle. They'll mail the art to the lucky winner once the museum reopens. And it's all FREE!
Schedule of upcoming shows:
Morgan Bukovec, May 20 at 3 PM
As a mixed media artist, Morgan asserts, "My artistic practice is my activism." Her artwork is at once provocative and nostalgic.
Nolan Beck-Rivera, May 27 at 6 PM
Founder of Heyhey and The Materialist, this eclectic designer creates everything from furniture to candied magnolia petals.
Sam Buganski, June 3 at 6 PM
The evergreen concept of play as well as the gay experience inform the ceramic work of this Westerville, Ohio, native.
Jamal Collins, June 10 at 4 PM
An accomplished graphic designer, Jamal helps Cleveland's youth develop their capacity to challenge their sense of imagery and creativity.
Tara Seibel, June 17 at 6 PM
A collaborator of Harvey Pekar, Tara's illustrations have appeared in the New York Times, LA Times, USA Today, and Cleveland Scene among others.
Amanda Wascovich, June 24 at 7 PM
As a multi-disciplinary artist, Amanda's work highlights the importance of holistic health.
For more information, please visit https://www.facebook.com/events/581951096069213/.
Gas Masks, Nela Park and the Cleveland Mousetrap
Life, the Universe & Hot Dogs!
Free & Open to the Public!
via zoom at https://cwru.zoom.us/j/633845890
"Gas Masks, Nela Park and the Cleveland Mousetrap"
Michael Fricke, Ph.D.
Chair, Akron Section of the American Chemical Society
The United States declared war on Germany on April 2, 1917. Three weeks after the United States entered World War 1, gas mask development moved to a suburb of Cleveland called Nela Park. A partnership between the U.S. Bureau of Mines, Frank Dorsey of the National Lampworks Company and engineers from the National Carbon Company worked to develop prototype gas masks. Cleveland was chosen because there was more knowledge concerning charcoal chemistry than anywhere else in the country. Within a month, the Secretary of War had ordered one million masks to be designed and produced. The offensive side of Chemical Warfare Service soon followed into Cleveland as well. Harvard Chemistry Professor James Conant came to Willoughby to supervise construction of a 30-acre site tasked with producing the warfare agent Lewisite. This plant was nicknamed "The Cleveland Mousetrap" because of the secrecy – as in "What goes in never comes out."
Michael Fricke is a PhD chemist and current chair of the Akron American Chemical Society. Dr Fricke is an expert on arsenic chemistry and discovered dimethylthioarsinic acid (DMTA) which has proven to be a key metabolite in the toxicity associated with low-level chronic arsenic consumption.
via zoom at https://cwru.zoom.us/j/633845890
Noir at the Bar
Do you love twisted tales of murder, mystery, and mayhem? Grab a drink and take a walk on the dark side with us!
Join Literary Cleveland and Music Box Supper Club this Friday May 29 at 7 p.m. for a virtual happy hour and hear Cleveland authors tell gritty stories pulled from their published and unpublished work. You might just win a free book!
Register for this free through Crowdcast: https://www.crowdcast.io/e/noir-at-the-bar
READERS
D.M. Pulley is the author of four novels, including The Dead Key (2015), The Buried Book (2016), and The Unclaimed Victim (2017). Her latest book, No One's Home (2019), unravels the disturbing history of an old mansion haunted by family secrets, financial ruin, and murder.
Annie Hogsett is the author of the Somebody's Bound to Wind Up Dead Mysteries, which includes Too Lucky to Live (2017), Murder to the Metal (2018), and The Devil's Own Game (2019).
Stephanie Cole is the author a new Tuscany-set mystery, Al Dente's Inferno (Berkley), that debuted in February. The next in the series, Crime of the Ancient Marinara, comes out in January 2021. Writing as Shelley Costa, she has published several novels, including You Cannoli Die Once, Basil Instinct, Practical Sins for Cold Climates, and A Killer's Guide to Good Works.
Abby Collette (who also writes as Abby L. Vandiver) has penned more than twenty books and short stories. Her new cozy from Penguin Berkley, A Deadly Inside Scoop, is the first in the new Ice Cream Parlor Mystery series set in Chagrin Falls, OH.
Susan Petrone is the author of the The Heebie-Jeebie Girl (2020), The Super Ladies (2018), Throw Like a Woman (2015), and A Body at Rest (2009). Susan's short fiction has been published by Glimmer Train, Muse, Conclave, Cleveland Review, and Whiskey Island.
Kylie Logan is the author of 63 novels, including the Jazz Ramsey mystery series. The second installment in the series, The Secrets of Bones, has just been published by St. Martin Minotaur. As Casey Daniels, she's written several series, including the Pepper Martin books in which Pepper solves mysteries for the ghosts in the cemetery where she works.
Dan Chaon is the author of three short story collections and three novels, including Among the Missing, which was a 2001 finalist for the National Book Award, and Ill Will, which was named one of the best books of 2017 by The New York Times and others.
Northern Italy with Nicola Biscardo
Flight Cleveland is so excited to team up with their friend Nicola Biscardo for a wine tour of Northern Italy this Friday May 29 at 6 p.m.!
Nicola is a winemaker, professional wine taster, Sommelier and wine exporter. He works with small, family owned wineries in Italy that follow organic, biodynamic and sustainable wine making practices. Nicola will join us all the way from Verona, Italy while we taste through several delicious wines from his vineyards and from the wineries he represents!
Cantina di Carpi NotteROSA Brut $13
Marchesi Biscardo Corvina $16
Tenuta La Meridiana "Le Quattro Terre" Barbera d'Asti $17
*Bonus Bottle* Guado al Melo Antillo Bogheri Rosso $24
Call or place your order on their website to reserve and purchase your wines!
A Zoom link is provided with purchase.
216-400-6867
flightcleveland.com
Nature at Night
You're invited to this year's annual Nature Center at Shaker Lakes VIRTUAL benefit!
Nature Center at Shaker Lakes is moving forward with Nature at Night – the annual benefit to support the Nature Center at Shaker Lakes. In doing so, they will transition the benefit into a VIRTUAL experience. They invite each of you to join in showing your support for our beloved community gem through this new and exciting experience.
Stay tuned for more details in the next few weeks on how you can attend, contribute, and participate VIRTUALLY with Nature Center at Shaker Lakes!
https://www.shakerlakes.org/nature-at-night
Mustache May Virtual Mustache Contest
Have you been waiting for the perfect time to grow out that magnificent mustache?
Sphere Presents has been working on putting together Cleveland's hottest 'Mustache May Virtual Mustache Contest'. While details are still being sorted out, get those 'staches ready!
Visit https://www.facebook.com/events/165097704825972/ for more information.
Stay tuned to OnCleveland.com, your site for fun, free, local entertainment for upcoming events in our weekly column, FUN10, every Sunday!
#Fun10Cleveland
Tess Abney is a freelance writer who was born and raised in the Quad Cities. She spends most of her time attempting to successfully raise three boys. In her free time, writing is her passion. Whether it is sharing local events and businesses with readers or sharing her thoughts on life, she finds comfort in the way words can bring people together.