10 Fun Things To Do Week of May 31st: Trivia, Music, Fresh Air and MORE!
OnCleveland.com proudly presents our newest feature, FUN10, a list of the top 10 things to do in the Cleveland this week, and every week! Every Sunday, we'll drop a new FUN10, to give you a head start on your week and a heads up on what's going on over the coming seven days. Check out FUN10 every Sunday for the details on ten awesome events happening around town. It's a cool read, and a great way to get started planning your entertainment for the week.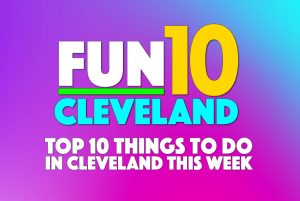 Due to the cancellation of so many regularly scheduled events in Cleveland – with more coming in every hour – we're focusing this week's edition of Fun10Cleveland on fun entertainment you can enjoy in the safety of your own home or while practicing safe 'social distancing' while the state begins to open back up.
FUN10 — ten ways for you to have fun in the Cleveland, this week and every week, running every Sunday, only on your site for fun, free, local entertainment, OnCleveland.com!
So what's on the FUN10 for this week? Read on …
Beachland Presents: Waxahatchee Weekly Livestream Concert
Beachland Presents:
Waxahatchee Weekly Livestream Concert on noonchorus.com
Live stream begins at 9pm EST, every Monday in June with 24-hr on-demand rebroadcast at 12 midnight EST.
Tickets: https://noonchorus.com/beachland-presents-waxahatchee/
Please note, this is Beachland's official link, and to not be tricked by companies not using noonchorus.com links. We've seen scamming going around online, and we encourage reporting non-official links.
Every Monday, in June of 2020
$15 SINGLE SHOW
$50 ALL SHOWS
$60 ALL SHOWS + SCREENED PRINT POSTER
ALL AGES / ONLINE ONLY
*Taxes and Service Fees Not Included.
Dates & Album's to Be Played Live
June 1 – American Weekend
June 8 – Cerulean Salt
June 15 – Ivy Tripp
June 22 – Out In The Storm
June 29 – Saint Cloud
Happy Dog Virtual Trivia
Join The Happy Dog on Monday Jun 1 at 8pm for a Happy Dog Virtual Trivia Fundraiser!
We're excited to host 8 Rounds of Trivia through Zoom and Facebook Live with your hosts — Dave McKean, Aubrey McKean, Matt Jauch, Andrew Schriver, Rachel Hunt, Jacqueline Bon, Angie Hetrick and Jeremy Hills! Most of these hosts have been running the HD Monday Trivia for the past year, so this is a unique chance to bring them all together, from our homes to yours!
Donations for the event will help support our staff as we work to reopen safely and securely as soon as possible.
REGISTRATION:
Teams must send a minimum $25 donation via PayPal or Venmo, and must include your team name with the donation. Once received, we will send you the Zoom event link and rules of play. Feel free to announce your team's presence in the Discussion for this event!
PAYPAL:
happydogtips20@gmail.com
VENMO:
@HappyDogTips
LIMIT 25 TEAMS, so register early!
Teams can organize and communicate independently through texting, FB Messenger, Skype, conference call, etc., it's up to you! Play on your own, play with your house mates, do whatever as long as your team is no more than five (5) people. Your Team Captain will be the person responsible for participating in the Trivia Zoom meeting, their microphone will be muted so that players can communicate. We kindly ask that Captains and participants maintain civil and respectable discourse. Keep it PG-13, please! Also, don't cheat!! Who cheats at a fundraiser???
Teams registered will compete for a deliverable Grand Prize and very real virtual Happy Dog Trivia glory!
Didn't register on time but still want to play? Or do you just want to watch the Trivia mayhem ensue? Just find us at our Facebook Live feed, where we will stream the entire event live on June 1st at 8 pm EST! Make sure you give the Happy Dog Page a Like and that you have their notifications turned on.
You'll get a notification on game night once the Facebook Live feed has begun. The Happy Dog FB page is here:
https://www.facebook.com/TheHappyDog/
Want to simply donate? Again, we encourage any and all donations via PayPal at happydogtips20@gmail.com or Venmo @HappyDogTips, and are grateful for your generosity!
Perraneu Presents: The Emperor's New Clothes
Perraneu's release party this month takes shape as a virtual performance of The Emperor's New Clothes, an at-home opera with made up words. Promised to be theatre unlike you've ever experienced!
Monday, June 1st 2020 at 7:00pm
HOW TO WATCH: The night of the performance, tune into the live video on McKenzie Merriman to see the artists tell the story of a foolish leader and their tailors' scheme to embarrass.
—
Check out May's issue 'dirge' on the Perraneu website: https://dt194006.wixsite.com/perraneu
Between the Screens: A Conversation with Kathryn Hahn
The Greater Cleveland Film Commission is excited to partner with actor Kathryn Hahn to present our first-ever Between the Screens Virtual Event this Tuesday June 2 at 7 p.m.
A Conversation with Kathryn Hahn will be moderated by local radio host and former actor Jeremiah Widmer (the Jeremiah Show, Q104 FM). Jeremiah will interview Ms. Hahn and facilitate limited audience Q&A. He will cover a wide variety of topics ranging from her experiences in the entertainment business to how growing up in Northeast Ohio impacted her career.
This is a free event, but registration is required. SEE THE TICKET LINK TO REGISTER.
Actor Kathryn Hahn
Kathryn Hahn has an incredible acting career that began during her childhood in Cleveland as a regular on the syndicated Saturday morning kids' show "Hickory Hideout," which filmed in the old newsroom at Cleveland's WKYC Channel 3. She attended Beaumont School, then received her Bachelor's degree from Northwestern University and her Masters in Fine Arts from the Yale School of Drama.
On television, Hahn was recently seen co-starring in the Emmy Nominated Amazon original series "Transparent" created by Jill Soloway. For her portrayal of 'Raquel Fein,' she received a 2017 Emmy Award nomination in the category of "Outstanding Supporting Actress in a Comedy Series". Additional television credits include a guest-starring arc on the NBC hit show "Parks & Recreation" and a role in NBC's "Crossing Jordan," which ran for six seasons.
On the feature side, Kathryn has had notable roles in films "Private Life," for which she received a Gotham Independent Film Award nomination; "A Bad Moms Christmas" and "Bad Moms;" "Captain Fantastic" and "This is Where I Leave You." Additional credits include "Bad Words" "The Secret Life of Walter Mitty" and "We're the Millers." She also starred in "Afternoon Delight" which garnered her a 2013 "Breakthrough Actor" Gotham Award nomination. Other feature film credits include "Wanderlust"; "Our Idiot Brother"; "How Do You Know"; Sam Mendes' "Revolutionary Road"; "Step Brothers" and "Anchorman: The Legend of Ron Burgundy."
Currently, Kathryn can be seen in the HBO limited series I KNOW THIS MUCH IS TRUE alongside Mark Ruffalo and upcoming she will be seen in the Apple+ series CENTRAL PARK.
Moderator Jeremiah Widmer, Q104FM
Jeremiah is the host of The Jeremiah Show, weekday mornings on Cleveland's Q104. Jeremiah earned his bachelor's degree in Mass Media Communications from the University of Akron, and was a member of WZIP, the #1 student run college radio station in the country. Earlier in his career Jeremiah worked in Los Angeles on a variety of television shows like The Late Late Show with Craig Ferguson, The Tonight Show with Jay Leno, and the Ellen DeGeneres Show. While in L.A. he was featured on USA Networks Character Fantasy: I Wanna Be A Professional Dodgeball Player, and he and his wife Jessy were contestants (and won) the Newlywed Game. He also studied and performed sketch and improvisational comedy at the Upright Citizen's Brigade Theatre. Jeremiah returned to northeast Ohio in 2013 as Afternoon Drive host at Cleveland's Star 102, until the creation of the Jeremiah Show in 2016. He lives in Wadsworth with his wife Jessy, sons Eli and Isaiah, and daughter Carly.
Live with Laura
InsideCPH: Live With Laura
Join CPH Artistic Director Laura Kepley and a special guest every Thursday at 7PM!
This new virtual series explores how local and national theatre artists are being impacted by the pandemic and how they are creatively coping. These honest and, at times, very humorous conversations celebrate the work these artists have created at CPH in the past, and offer a sneak peek at the plans being dreamed up for the future.
This special InsideCPH event is FREE and VIRTUAL! Register online today and join in on the conversation right from the comfort of your own home!
Register Now!
www.tinyurl.com/CPHConversations
Virtual Happy Hour with Saucy Brew Works
CLExperience: Ask the Brewer – Virtual Happy hour with Saucy Brew Works
Ask the brewer! Grab a virtual drink with us as we have a chat with Eric Anderson, the Brew Master and Co-Owner of Saucy Brew Works. Eric will be sharing the history of Saucy, a quick overview and walk through in sensory analysis of beer, a virtual tour of the brewery. He will also be answering any questions you have about beer.
Saucy Brew Works was named the runner-up Best Brewery in the 2020 Silver Spoon Awards by Cleveland Magazine Readers.
Limited to 100 attendees.
Price:
-General Admission – $5
-Employer Member – Free (email info@engagecleveland.org for your promo code)
Register here: https://www.engagecleveland.org/calendar/saucybrewworks
Livestream Benefit Concerts for Covid-19 Relief
Music & Art at Trinity is pleased to announce a series of three livestream benefit concerts from the nave of Trinity Cathedral. The concerts are co-hosted by Trinity Cathedral and are free with an opportunity for viewers to donate as they wish. All proceeds will go in equal portions to COVID-19 relief and Music & Art at Trinity Cathedral, a registered 501 (c)(3) organization.
First Concert: Friday, June 5 featuring Bach's Cello Suites No. 5 in C minor, No. 1 in G major, and No. 3 in C Major played by Mark Kosower, principal cellist of the Cleveland Orchestra.
Second Concert: Friday, July 31 (note date change) featuring Bach's Cello Suites No. 2 in D minor, No. 4 in E♭ major, and No. 6 in D Major played by Mark Kosower, principal cellist of the Cleveland Orchestra.
Third Concert: Date TBD featuring Nadia Boulanger's Three Improvisations, Johannes Brahms's Sonato in A Major for Violin and Piano and Benjamin Britten's Abraham and Isaac. Performers will include Todd Wilson, Director of Music at Trinity Cathedral; Nicole Keller, associate organist at Trinity Cathedral; Andrew Sords, violin; Elizabeth DeMio,piano; John McElliott, countertenor; and JR Fralick, tenor. The artists will play before an empty cathedral in keeping with the latest social distancing guidelines.
For more information, please visit https://www.facebook.com/events/239017427431672/
Bronx Country at Shooters
Are you ready for some live music?!
Bronx Country will perform live at Shooters on the Water (1148 Main Ave. Cleveland) this Friday Jun 5 at 9 p.m.
Bronx Country returns to Shooters on the Water! Jason Aldean, Brantley Gilbert, Randy Houser, Brooks and Dunn, Travis Tritt, Chris Stapleton, Jake Owen, Lynyrd Skynyrd, Luke Combs, etc! Put your boots on and kick the pop out of country with us!
For more information, please visit https://www.facebook.com/events/213058646546998/.
Cleveland Bazaar in Market Square
While, unfortunately, the city of Cleveland has canceled event permits for June and July – that doesn't mean you can't still support the Cleveland Bazaar in Market Square!
Cleveland Bazaar is currently renovating their website to make it easier for shoppers to find artists' websites and buy directly from them, online. They are also re-evaluating upcoming events.
To be added to the Cleveland Bazaar mailing list for updates, go to: http://bit.ly/clebazaarmail
Check out their website at: http://www.clevelandbazaar.org
Instagram: https://www.instagram.com/clebazaar
Facebook: https://www.facebook.com/clevelandbazaar/
Fresh Air Camp 2020 Virtual Campfire and Sing-Along
Join Fresh Air Camp this Sunday Jun 7 at 6 p.m. for Fresh Air Camp 2020 Virtual Campfire and Sing-Along!
Just because we're not physically together doesn't mean we can't have fun this week! You can post song requests in the comments on the Facebook Event Page at https://www.facebook.com/events/554006561923283/.
Stay tuned to OnCleveland.com, your site for fun, free, local entertainment for upcoming events in our weekly column, FUN10, every Sunday!
#Fun10Cleveland
Tess Abney is a freelance writer who was born and raised in the Quad Cities. She spends most of her time attempting to successfully raise three boys. In her free time, writing is her passion. Whether it is sharing local events and businesses with readers or sharing her thoughts on life, she finds comfort in the way words can bring people together.