10 Fun Things To Do Week of May 17th: Art, Film, Farmers Markets and MORE!
OnCleveland.com proudly presents a brand-new new feature, FUN10, a list of the top 10 things to do in the Cleveland this week, and every week! Every Sunday, we'll drop a new FUN10, to give you a head start on your week and a heads up on what's going on over the coming seven days. Check out FUN10 every Sunday for the details on ten awesome events happening around town. It's a cool read, and a great way to get started planning your entertainment for the week.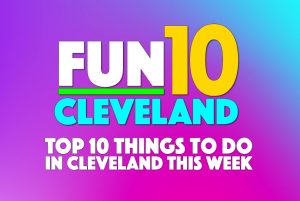 Due to the cancellation of so many regularly scheduled events in Cleveland – with more coming in every hour – we're focusing this week's edition of Fun10Cleveland on fun entertainment you can enjoy in the safety of your own home or while practicing safe 'social distancing'.
FUN10 — ten ways for you to have fun in the Cleveland, this week and every week, running every Sunday, only on your site for fun, free, local entertainment, OnCleveland.com!
So what's on the FUN10 for this week? Read on …
Art Instruction Videos with ArtHouse
Let's make some art!
Join Program Director Emily Splain, of ArtHouse (3119 Denison Ave Cleveland) for some online fun on Facebook, YouTube and Instagram Live.
Mondays at 1 p.m. – Instagram LIVE: Quick Projects
Wednesdays and Friday at 1 p.m. – Art Instruction or Art History Lecture
For more information, visit https://www.facebook.com/events/983439778740052/.
Up from the Streets: New Orleans, City of Music
Online exclusive! Available 5/15 – 6/4.
UP FROM THE STREETS: NEW ORLEANS, CITY OF MUSIC
USA, 2020, Michael Murphy
In this new jazz documentary, Grammy-winning musician, composer, and educator Terence Blanchard takes us on a guided tour of his home town and its rich musical tradition. The film features personal reflections from such New Orleans greats as Harry Connick, Jr., Wynton Marsalis, Mannie Fresh, and Dr. Michael White, and includes new and archival filmed performances by Louis Armstrong, Mahalia Jackson, Professor Longhair, Fats Domino, Allen Toussaint, and The Neville Brothers. There will be a special live Q&A via Zoom with Terence Blanchard and director Michael Murphy at 7:00 pm EDT on Sat., May 16. For every ticket sold, $2 will be donated to the New Orleans Jazz and Heritage Foundation COVID-19 relief fund. Cleveland premiere. 104 min.
Up from the Streets: New Orleans, City of Music, a Cinematheque streaming exclusive, can be watched online HERE from 5/15 thru 6/4 via the link below. Doing so supports the Cinematheque.
Screening fee $12 (approximately half goes to the Cinematheque). After renting the film, you have 72 hours to watch it.
Lindsay Gottlieb: Woman on the Ball
Lindsay Gottlieb: Woman on the Ball; Succeeding in a Man's World
Cleveland Cavaliers assistant coach Lindsay Gottlieb talks about mentorship, opening doors for other people and how women should dream big. Inform your kids, grandkids, and friends! Gottlieb will talk about her history-making journey and how she hopes her own story will inspire future girls and young women.
For more information on this online event, please visit https://www.facebook.com/events/278521293317531/.
RSVP to receive zoom link: Email JHayes@ncjwcleveland.org
2020 Artists Archives of the Western Reserve Annual Members Exhibition
On March 27, the Artists Archives of the Western Reserve (AAWR) welcomed the return of its 2020 Annual Members Exhibition, featuring work by over one hundred of its member artists, hung salon-style in the main gallery. For over a decade, this all-media show has brought together some of Northeast Ohio's finest creators.
Though our doors are currently closed, we've been busy- and the entire 2020 Annual Members Exhibition is now available online!
Visit artistsarchives.org to enjoy a dynamic mosaic of 106 works by NE Ohio artists, including painting, print making, sculpture, drawing, ceramics, photography, mixed media assemblage and more. The digital gallery changes with each viewing, so visit often for a creative pick-me-up. Just click on any piece to cruise the detailed images!
Viewers have traditionally voted for their favorite work in the Member's show… and this year is no exception. Voting will be done online! At the end of the exhibition, a ballot will be sent to AAWR's mailing list. The 4 most popular artists will receive awards and cash prizes which will be presented (you guessed it) on Facebook Live! To join our mailing list & receive a ballot, visit http://www.artistsarchives.org/publication…/aawr-newsletter/
Weekly exhibition highlights will be shared via social and email to help you find your favorite work. These digital exhibition spotlights feature views from AAWR's Main Gallery and links to learn more about exhibiting artists!
Artwork will be sold online to help support Ohio's creative community. See something you like? email info@artistsarchives.org
Visit our videos section to see a video tour of the exhibition with Executive Director and Chief Curator Mindy Tousley!
If it becomes safe to do so, we hope to allow limited or by appointment access to the physical gallery space. We promise to keep you posted as things develop! until then, enjoy the digital show! http://www.artistsarchives.org/event/2020-annual-members-exhibition/
Toast the Artists
Toast the artists (from the comfort of your home). SPACES introduces two new artists-in-digital-residence: Danielle Andress and Jeff Thompson. Say hello and welcome them to the SPACES extended family!
For more information, visit https://www.spacescle.org/events/2020/05/21/artist-welcome-event.
Virtual Film Café with Evan Miller
Join Music Box Supper Club for their virtual CLE Stories & Film Café via a live Zoom webinar with their partner the Greater Cleveland Film Commission.
The interview will be followed by local short films.
SIGN UP HERE: https://us02web.zoom.us/webinar/register/WN__HRXbCPTTEWAQVsGlan4MA
*Zoom account isn't required to attend.
Venue: Your Home
Showtime: 7:00 pm
All Ages, Virtual Event
Evan Miller joins us to share his experiences working as an agent in Hollywood. He came to Cleveland this year from Abrams Artists Agency, where he served as a feature film and television talent agent, representing a wide array of clients in film, television, and theater. We are excited to hear his story and what he plans to bring to Cleveland film! Evan will also be discussing filmmaking during the pandemic and how to get back on your feet.
Evan Miller Bio
Evan Miller is the president of the Greater Cleveland Film Commission. He cames to the GCFC from Abrams Artists Agency, where he served as a feature film and television talent agent, representing a wide array of clients in film, television and theater. In his role, he worked collaboratively with clients, writers and producers to foster projects from script to screen, as well as established relationships with feature and television development executives – skillsets and connections that he leverages in his new position. Prior to Abrams Artists, he served as an agent at the Bauman, Redanty & Shaul Talent Agency. Miller grew up in Cleveland, and he is a graduate of The Ohio State University with a Bachelor of Science in Business Administration and Marketing. He is a passionate believer in Cleveland's potential to become a leading destination for film, television and theater production and is committed to continuing to focus the GCFC's efforts on expanding the tax credit to $100 million.
The goal of the Cleveland Stories Dinner Party is to bring to life some of the fun, interesting stories about Cleveland's past – from sports, to rock 'n roll, to Millionaire's Row, — the series will focus on tidbits from Cleveland's past that will really thrill the audience. The Music Box is presenting this series in partnership with the Western Reserve Historical Society's new Cleveland History Center. We think the Cleveland History Center is one of the most important museums in Cleveland. An unknown gem that Clevelanders should know more about, and support. It is the only museum in Cleveland dedicated to preserving and documenting the history of Cleveland. The Cleveland History Center includes two mansions, the Crawford Auto Aviation Museum, Chisholm Halle Costume Wing, Research Library, Kidzibits Hands-On Gallery, rotating exhibitions, and the Euclid Beach Park Grand Carousel.
Cats on Holiday Bust Into Summer
Sainatos at Rivergate (1852 Columbus Rd. Cleveland) presents: "Bust Into Summer" an outdoor party welcoming Summer to the Northcoast, this Saturday May 23 at 4 p.m.
Absolute safe distancing with acres of green space. Directly on the Cuyahoga River. Food and drink available from Sainatos.
https://www.sainatosatrivergate.com/
North Union Farmers Market at Crocker Park
North Union Farmers Market at Crocker Park in Westlake, Ohio is open for the 2020 season every Saturday from 9a.m. until 1p.m.
Local farmers will line both sides of Crocker Park Boulevard with tempting displays of locally-grown produce, fresh meat and dairy products. Bakers will serve up crusty artisan breads and pastries.
**COVID UPDATE**
North Union Farmers Market has been deemed an essential service at this time and will continue outdoors at Crocker Park.
Shaker Square Market will be back on the street on Shaker Blvd. You will find farms and food producers with fresh produce, meats, dairy, baked goods and more from 8-12 every Saturday. We will be reserving the hours of 8:00 – 8:30 am for customers 60+ and anyone who is immune-compromised.
The markets will not look like they normally do. We love that our customers consider the market a community, but for the safety of our staff, farms and you the customer, please adhere to the following guidelines:
For the safety of you and our farms, we will be limiting the number of people in the market space at one time
Please be courteous of other customers and vendors and maintain a six-foot distance
Tell the vendor what you want and they will bag for you, please do not touch the product
No reusable bags, please
Customers should wash produce before consumption
Wash hands with soap and warm water for 20 seconds
Remain home if you are sick, even with mild illness
SNAP Customers, during this uncertain time your Produce Perks match will be unlimited.
North Union Farmers Market is proud to accept SNAP (Supplemental Nutrition Assistance Program) cards at the Shaker Square market. SNAP recipients visit the "Market Information" table to receive tokens for the purchase of fresh, local foods. North Union Farmers Market also participates in the Produce Perks Incentive Program which can match up to $20 SNAP in fresh fruits and veggies!
North Union Farmers Market's season continues every Saturday through December 12. Learn more about the market and all the locations at www.northunionfarmersmarket.org
Beyond Baseball: Growing Up with Steve O'Neill
Beyond Baseball, a program in the Baseball Heritage Museum's series celebrating the members of the 1920 World Champion Cleveland Indians, will continue with the story of Steve O'Neill, this Saturday May 23 at 1 p.m.
Steve O'Neill is known in the baseball world as the catcher on the 1920 World Champion Cleveland Indians team who went onto a successful career as a coach and manager.
But to Hank Nowak he was grandpa. Hank will join us from Texas via Zoom to share his memories. Hear stories that include Babe Ruth , Bob Feller, Hank Greenberg, Tris Speaker , Ray Chapman , Jack Graney , Train travel , Giants , and Herman Goering.
Hank says of the program:
"Our neighbors went to work, then came home to their families. Ballplayers went to work, were cheered or booed, then went home to their families, often in workingclass areas. In the off-season they had jobs as laborers , salesmen, clerks, and on and on. Players weren't special other than getting to play games as adults . There are many stories of famous men that show that our parents and grandparents were all of one fabric"
YOU MUST REGISTER TO RECEIVE THE LOGIN INFORMATION.
The Beat Must Go On Virtual Climb Challenge
The Beat Must Go on will be a month-long Vertical Elevation Gain (tracked automatically when you use Strava) competition. That's right…vertitcal tracking…Let's get to work!
WHAT'S THE GOAL?
We are challenging each participant to log 10,000 Feet of Gain within a 4-week time frame. If you make it to 10,000 feet… don't stop there…keep going!! The goal is to stay active indoors and outdoors, while having fun and relieving stress!
SIGN ME UP!
DONATE: Sign up and donate a minimum of $10 to participate in "The Beat Must Go On" Event
DOWNLOAD: Download the STRAVA app, find our group name Heart Beat Running Club, hit the pavement, and start tracking those miles and elevation gain.
Link to Strava Group: https://www.strava.com/clubs/HeartBeat
Key Details:
Date: May 18, 2020 at 12:01 AM – June 15, 2020 at 11:59 PM
Time: ANYTIME
Location: ANYWHERE THAT FOLLOWS THE GUIDELINES OF PHYSICAL DISTANCING…DON'T FORGET TO SMILE WHEREVER YOU ARE. Bring CHEER TO THOSE INDIVIDUALS 6 FEET AWAY FROM YOU!
Packet Pickup: No need for it …we are going VIRTUAL PEOPLE!!
HOW DO I WIN? THERE HAS TO BE A WINNER!
First Place: Awarded to first participant to log 10,000 Feet,
Second Place: Awarded to second participant to log 10,000 Feet
Third Place: Awarded to third participant to log 10,000 Feet
Overall Male: Male participant who logs the most elevation
Overall Female: Female participant who logs the most Elevation
Prizes include The Beat Must Go On Running Hat to each winner!
Submit your running profile here: https://forms.gle/dU9YGNNWqPP6dGgY9
EVENT PERKS:
Win a Pair of Running Shoes or 4 other prizes just by entering!
MAKING A DIFFERENCE: The donations received will be used to fund lifesaving research, support health and education initiatives in our community, improve the quality of care in our hospitals, advocate for healthy policies and so much more.
STAYING HEALTHY: The American Heart Association and the American Heart Association Cleveland Young Professional Board is committed to helping every person live healthier, longer. By participating in this event and donating you are believing in and advancing this critical mission.
CONNECTING TO THE COMMUNITY: THE AHA YP BOARD WANTS TO HEAR ABOUT YOUR SUCCESS….Follow us and tag us on Instagram and Facebook and post about your progress! Be sure to use #TheBeatMustGoOn…catchy, right?
And don't forget the Strava Club: https://www.strava.com/clubs/HeartBeat
——–
Submit your running profile here: https://forms.gle/dU9YGNNWqPP6dGgY9
Stay tuned to OnCleveland.com, your site for fun, free, local entertainment for upcoming events in our weekly column, FUN10, every Sunday!
#Fun10Cleveland
Tess Abney is a freelance writer who was born and raised in the Quad Cities. She spends most of her time attempting to successfully raise three boys. In her free time, writing is her passion. Whether it is sharing local events and businesses with readers or sharing her thoughts on life, she finds comfort in the way words can bring people together.