10 Fun Things To Do Week of May 10th: Virtual Wine Tours, Yoga, Music and MORE!
OnCleveland.com proudly presents a brand-new new feature, FUN10, a list of the top 10 things to do in the Cleveland this week, and every week! Every Sunday, we'll drop a new FUN10, to give you a head start on your week and a heads up on what's going on over the coming seven days. Check out FUN10 every Sunday for the details on ten awesome events happening around town. It's a cool read, and a great way to get started planning your entertainment for the week.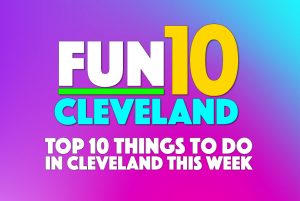 Due to the cancellation of so many regularly scheduled events in Cleveland – with more coming in every hour – we're focusing this week's edition of Fun10Cleveland on fun entertainment you can enjoy in the safety of your own home or while practicing safe 'social distancing'.
FUN10 — ten ways for you to have fun in Cleveland, this week and every week, running every Sunday, only on your site for fun, free, local entertainment, OnCleveland.com!
So what's on the FUN10 for this week? Read on …
Spend Your Remote Recess with CAL
In this time of stress and uncertainty, the arts provide a creative outlet for kids navigating the transition to learning from home.
Join the Center for Arts-Inspired Learning for a fun, interactive 20-minute "brain-break" with CAL Teaching Artists, to help students be ready to tackle their next school assignment.
Students (and parents) can spend their Remote Recess watching fun, interactive virtual concerts to help recharge and be ready to tackle their next school assignment or project.
Tune in at 12 p.m. on Monday May 11 on Facebook to watch live or find the video "on-demand" on CAL's website: arts-inspiredlearning.org/community-programs/remote-recess/.
Coffee Break Concerts with Warehouse District Cleveland
Join the Warehouse District Cleveland EVERY weekday afternoon for 30 minutes of live music! From 1:30 – 2 p.m. you will experience music from your favorite local musicians!
View the concerts on the Warehouse District Cleveland Facebook page.
Check out this week's lineup:
Monday May 11 Liz Bullock
Tuesday May 12 Jul Big Green
Wednesday May 13 Ben Gage
Thursday May 14 Colin Dussault & Austin Walkin Cane
Friday May 16 Thor Platter
Virtual concerts are presented by Historic Warehouse District Development Corporation with support from Downtown Cleveland Alliance.
Kid Flicks from Cinematheque at the Cleveland Institute of Art
Grab some popcorn and get ready for a fun, artful film experience for kids and adults alike!
Kid Flicks feature two programs of acclaimed short films from last year's NYICFF and will bring some inspired storytelling and hilarity to your home screen.
Kid Flicks One (56 min.), recommended for ages 3 & up, consists of 12 films (both animation and live action, all in English or without dialogue) from nine countries. Highlights include Belly Flop, Slurp, Preschool Poets: Poem about All Different Things (co-directed by Columbus' Nancy Kangas), and KUAP, about a little tadpole who always falls a tad behind. The complete program can be found at nyicff.org. Cleveland premiere.
Kid Flicks Two (72 min.), recommended for ages 8 & up, consists of eight films (animation, live action, and documentary, all in English or without dialogue) representing 10 countries. Highlights include the hilarious, Oscar short-listed French slapstick cartoon Hors Piste and Australia's delightful A Field Guide to Being a 12-Year-Old Girl. Visit nyicff.org for the complete lineup.
Kid Flicks Two from the 2019 NYICFF, a Cinematheque streaming exclusive, can be watched online from 5/8 thru 5/17. Doing so supports the Cinematheque.
Viewing fee per program $6.99. After renting a program, you have 48 hours to watch it.
Virtual Wine Tasting Experience
Join Dancing Birds Wine Tours as Destiny Burns takes on an interactive virtual wine tasting experience of her wines at CLE Urban Winery on Wednesday May 13 at 7 p.m. While this event is free, registration is required. Click here to register today!
CLE Urban Winery brings the unique concept of a working winery and tasting room to the historic urban setting of the Cedar-Lee neighborhood of Cleveland Heights, Ohio. They don't have a vineyard – their wines are hand-crafted and bottled on-site in our craft brewery-style winery and are made from premium juice sourced primarily from the US west coast and branded to honor and celebrate the city of Cleveland.
Their wine production area is located behind glass across from the Tasting Bar and is designed and built so that their winery operations are performed in full view of their customers. They recently expanded the footprint of their wine production and bonded storage areas to almost double in size, and added space for more barrel aging of their wines. You can now see the whole winery from the storefront window on Lee Rd!
CLE Urban Winery is located at
2180B Lee Road
Cleveland Heights, OH 44118
(216) 417-8313
Facebook Live Pub Yoga with Alicia
Every Wednesday at 7 p.m. Alicia Hansen will be teaching an hour-long all levels flow class on the Platform Beer Co. Facebook Page! Don't forget to order some beer for delivery for post-class enjoyment!
About Alicia Hansen:
Alicia's full-time career as an event professional fuels her passion to bring pop up yoga experiences to Northeast Ohioans. As she has taught in the studio setting since 2012, her most memorable past yoga events include her Yoga Brunch series with Dante Next Door, Broadway Yoga classes with Playhouse Square, Yoga on the Superior Viaduct and Yoga Rocks the Park in Tremont's Lincoln Park. Alicia's interest in a wide range of movement modalities and yogic studies — including as a member of the GrooveRyde teaching staff and as a student of the ParaYoga Master Training Program — allows her to provide a well-rounded, complete practice appropriate for all levels of practitioners.
Jerry Joseph's Happy Book Live Stream
Join Jerry Joseph for his new weekly live streaming series, Happy Book Live. The show will air at https://www.jerryjoseph.com/live/ on Thursdays, at 6 p.m. PST / 9 p.m. EST.
Chip in via:
Venmo link: https://venmo.com/jerold-joseph
PayPal link: https://paypal.me/jeroldjoseph
A portion of proceeds will benefit Heart to Heart for Jani Wright.
Subscribe to Jerry's YouTube channel to get notified when the stream begins: https://bit.ly/JJYouTubeSub
Take a Virtual Wine Tasting Tour of Ohio Wines
Need something new to do while you shelter at home and looking for a fun indoor activity? Want to learn something new about wine?
Join Company Car & Limousine on a guided wine tour in virtual format, online via Zoom video conference this Friday May 15. No special software is needed, participants just join via a browser link that is provided.
Featuring Northeast Ohio Wineries, you will get the opportunity to enjoy a bottle of wine from each winery and talk with the winemakers while tasting their amazing wine. Tours will feature both a Red, White, or Sweet Wine tour path for you to choose at check out. All wine and a gourmet cheese platter will be delivered to your home the day of the virtual tour by Company Car & Limousine.
With virtual tastings you can engage and connect your team, or use your home downtime productively by furthering your knowledge in local wines.
The tour begins at 7 p.m. where they will feature wine from Sapphire Creek, Filia Cellars and CLE Urban winery.
For more information, please visit https://www.facebook.com/events/260740321785301/.
Online Chocolate Truffle Making Party with a French Twist
The Bom is on the road again – the virtual road! And they are bringing the party to you – ONLINE!
Join the fun on Saturday May 16 at either 6 p.m. or 8 p.m. to make delicious Chocolate Truffles with a French Twist!
Guest Hostess and French Teacher Penelope Lespinasse, owner of Penelope Speaks French (www.thefrenchteacher.net and https://www.facebook.com/penelopespeaksfrench/) will be joining in as well! You are sure to have a merveilleux moment as Penelope shares her love of the French culture and language with you!
The cost for one kit is $15 and 2 kits are $25. Everyone is asked to pre-register by 4 p.m. on Wednesday May 13 so they are able to ship your Chocolate Truffle supplies AND your fun French activity to you in time for the party!
With most of our country staying at home, the lives of all of us have been changed for awhile. As all large group gatherings are suspended, and physical distancing is implemented, it's time for us to get even more creative!
For more information, please click here.
Empowering Epilepsy's Rite Aid Cleveland Marathon Team
Help Change the Conversation about epilepsy and seizures by virtually running or walking, donating, or fundraising for Empowering Epilepsy's Rite Aid Cleveland Marathon Team! This is one of Empowering Epilepsy's versions of a run/walk fundraiser for epilepsy in Northeast Ohio!
The Empowering Epilepsy Team in the Rite Aid Cleveland Marathon benefits Empowering Epilepsy, our grassroots nonprofit 501(c)3 organization that was founded by people in Northeast Ohio who understand epilepsy and seizures first hand. It allows us to fundraise to support our ongoing programs and services.
Due to COVID-19, this has been turned into a virtual event. If you have already registered, you can run virtually, or save your registration for the 2021 race.
To register to run or walk:
1. Click on the tickets link above.
2. Choose your race.
3. After entering some information, it will ask you Add registrant to a team? – Click Yes, add this registrant to a team created by someone else. Then Choose Empowering Epilepsy as your team.
When they ask: Enter promo code or gift code, enter EE2020 to receive a 10% discount off of your registration.
From there, please donate to Empowering Epilepsy and/or create a fundraising team to ask your family and friends to support your run!
To join Empowering Epilepsy's Team: Copy the link below, sign in and scroll down to 'Add Team': https://raceroster.com/events/2020/24977/rite-aid-cleveland-marathon/register?team=214508
For more information contact Leigh Goldie at leigh@empoweringepilepsy.org or 440-248-6158.
Drop-in Akron Improv ZOOM!
Join Akron Improv for an little virtual fun this Sunday May 17 from 7 – 9 p.m. Do an awesome improv and then hang out with friends!
Welcome to the fun!!! Here are the details!!
Join Zoom Meeting
https://us02web.zoom.us/j/2438387480?pwd=akVlMFdLSFJCZFMwZTh1Zi9QS0hidz09
Meeting ID: 243 838 7480
Password: 845658
One tap mobile
+13126266799,,2438387480#,,#,845658# US (Chicago)
+16465588656,,2438387480#,,#,845658# US (New York)
Dial by your location
+1 312 626 6799 US (Chicago)
+1 646 558 8656 US (New York)
+1 253 215 8782 US
+1 301 715 8592 US
+1 346 248 7799 US (Houston)
+1 669 900 9128 US (San Jose)
Meeting ID: 243 838 7480
Password: 845658
For more information, please visit https://www.facebook.com/events/890818688088921/.
Stay tuned to OnCleveland.com, your site for fun, free, local entertainment for upcoming events in our weekly column, FUN10, every Sunday!
#Fun10Cleveland
Tess Abney is a freelance writer who was born and raised in the Quad Cities. She spends most of her time attempting to successfully raise three boys. In her free time, writing is her passion. Whether it is sharing local events and businesses with readers or sharing her thoughts on life, she finds comfort in the way words can bring people together.