10 Fun Things To Do Week of June 7th: Art, Nature, Music and MORE!
OnCleveland.com proudly presents our newest feature, FUN10, a list of the top 10 things to do in the Cleveland this week, and every week! Every Sunday, we'll drop a new FUN10, to give you a head start on your week and a heads up on what's going on over the coming seven days. Check out FUN10 every Sunday for the details on ten awesome events happening around town. It's a cool read, and a great way to get started planning your entertainment for the week.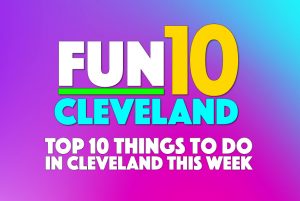 Due to the cancellation of so many regularly scheduled events in Cleveland – with more coming in every hour – we're focusing this week's edition of Fun10Cleveland on fun entertainment you can enjoy in the safety of your own home or while practicing safe 'social distancing' while the state begins to open back up.
FUN10 — ten ways for you to have fun in the Cleveland, this week and every week, running every Sunday, only on your site for fun, free, local entertainment, OnCleveland.com!
So what's on the FUN10 for this week? Read on …
Audubon Bird Walks
Join a guided walk through the Shaker Parklands looking and listening for birds. New to birding? All levels of birders are welcome on these walks. Six feet of social distancing between non-family participants is required. Please wear a mask and plan accordingly, as our building and restrooms are closed to the public.
Free. No registration required. Meet in the Nature Center parking lot. Photo: Yellow warbler by Laura Gooch.
For more information, please visit https://www.facebook.com/events/870857523398173/.
Homegrown Plant Sale
Nature Center at Shaker Lakes' 38th Annual Homegrown Plant Sale will take place this Thursday Jun 11 from 1 – 7 p.m. at the Nature Center, located at 2600 South Park Blvd Cleveland.
Member Preview 1-2 PM, Non-members 2-7PM (or until sold out)
Whether you are venturing into perennial gardening or looking to fill in spots in your garden, this is a great chance to stock up. The sale features plants lovingly cared for and donated by volunteers and supporters from their thriving local gardens. Plants are potted up and provided at reasonable cost. Offerings vary from year to year, but you are sure to find some favorites! Limited parking will be available in our lot with additional parking on South Park Blvd. Please drive slowly – wagons welcome!
Member Preview 1-2 PM
We invite our members to join us ahead of the crowd to get a jump start on selecting their sought-after homegrown treasures.
To become a member, visit shakerlakes.org/membership 
We will be observing the following COVID-19 safety guidelines:
Only 10 customers will be allowed in at a time
Our sales team will keep a 6-foot distance
Masks required to enter the pavilion
One way in, one way out
100% of proceeds support the Nature Center's annual operations. Thank you for any and all support!
Cleveland Sight Center Visionaries Hosts Virtual Trivia Night
Please join the Visionaries, CSC's Associate Board, for a night of virtual trivia on Thursday, June 11 at 7:30pm EST
Trivia will include facts about Cleveland, Cleveland Sight Center, vision impairment and more!
Join as a team or on your own! Register by Tuesday, June 9: https://docs.google.com/forms/d/e/1FAIpQLSeoS61AOUt4flCt6gICTcQT6vYLRINTaGDlc8viPCqWPYvuzA/viewform?bblinkid=226604958&bbemailid=22195937&bbejrid=1525941839.
Suggested $10 donation to be made by clicking the below link:
https://www.clevelandsightcenter.org/content/donate-now. Please designate your donation to "virtual event."
All proceeds will benefit the Children and Young Adult Services (CYAS) department to purchase supplies to create hands-on learning activities for kids.
Not all homes are created equal, and that is especially true right now for a lot of CSC's visually impaired students. As CSC's early intervention specialists, preschool teachers and therapists are working remotely, many basic supplies are not available to families, making remote teaching and therapy nearly impossible. As the supplies needed are often things many households do not have, such as high contrast images on a dark background or raised shapes on a paper.
Virtual Art Therapy Info Workshop
Join Art Therapy Studio online for a Virtual Art Therapy Info Workshop this Thursday Jun 11 from 7 – 8 p.m.
This workshop is designed to demystify Art Therapy. What is it, who does it help, and who is an art therapist will be explained.
Have you heard of art therapy? Have you ever considered participating in art therapy, but aren't sure what to expect? Have you ever wondered how art therapy and art instruction are different?
Art Therapy, described as the therapeutic use of art, was defined and developed into a distinct discipline in the 1940s. Today credentialed art therapists work with numerous hospitals, mental health facilities, addiction treatment centers, non-profits, and individuals to improve mental health and fine motor skills, along with valuable socialization.
In this workshop we hope to demystify what art therapy is, who is and is not an art therapists, and even how you can become an art therapist should this be the path for you. Participants will be led through an art intervention, similar to one used in an art therapy session, and will have the opportunity to ask questions in a learning environment.
This event is free and open to the public.
For more information, please visit https://www.facebook.com/events/2630760567139592.
Waterloo Makes Music: Tower Music Series
On Friday June 12th, Cleveland Rocks: PPF will host a FREE OUTDOOR CONCERT featuring local Waterloo area bands/musicians on the Tower Stage (at the corner of Waterloo and 156th St.)
Weather permitting, the series will occur on the Tower Stage while adhering to social distance guidelines.  The series will also be live-streamed for anyone unable to be present at the event.  If inclement weather interferes with outdoor performances, the event will take place in the Beachland Tavern and be live-streamed without a live audience.
The Evening will feature local favorites Erin Nicole Neal and the Chill Factors, with The Covemen.
Erin Nicole Neal & The Chill Factors:
Erin Nicole Neal & The Chill Factors are a band from Cleveland, Ohio. Established by lead singer Erin Nicole Neal in 2015. They do an eclectic mix of Blues, Rock, Pop, Soul, Jazz, Funk & Country. A power trio with the prowess of Cream, to the heart and soulfulness of Aretha Franklin. They rock out, or they can lay it low, from rock classics to tender loves songs. Eclectic mix includes artist like Aretha, Chaka, Michael Jackson, Cream, The Rolling Stones, The Beatles, Bad Company, Bonnie Raitt, Susan Tedeschi, Etta James, Jimi Hendrix, BB King, Eric Clapton and more! They play all over Northeast, Ohio and beyond, public and private events.
The Covemen:
Birthed from a cove in North Collinwood and molded by the power of our old Great Lake, the Covemen create and perform original garage rock and roll for the sole purpose of having fun.
For more information, please visit https://www.eventbrite.com/e/waterloo-makes-music-tower-music-series-tickets-107710069718.
Who Is Bozo Texino?
Join the Museum of Contemporary Art Cleveland (moCa) for a Watch Party on Facebook Live this Friday Jun 12 from 6:30 – 9 p.m.
Part documentary, part railroad dreamscape, the 2005 film from Bill Daniel, Who is Bozo Texino? is billed as "The mostly-factual cinematic account of the epic search and unlikely discovery of hobohemia's most legendary boxcar artist." To that end, the San Francisco Guardian hailed it as a "beautiful train-tagging movie."
Considering moCa's been on a train-tagging bender of sorts ever since Margaret Kilgallen's that's where the beauty is. opened at moCa earlier this year, we're screening Who is Bozo Texino? by way of a Facebook Live event on Friday, June 12, at 6:30 PM EST. Filmmaker Bill Daniel will be available to answer questions in the chat. Presented in partnership with the John Michael Kohler Arts Center, located in Sheboygan, Wisconsin.
More from the filmmaker:
"About 30 years ago, I unceremoniously escaped the shackles of straight society—hastily departing on a rattling westbound freight train on a quixotic quest to find the origin of an uncanny boxcar graffiti. With some difficulty, my adventures culminated in the making of a film, Who is Bozo Texino? which since completed, has somehow not facilitated my readmission into straight society, but merely shifted the mode of my chronic vagabondage from living on freight trains and shooting film, to living in a van and showing film."
—Bill Daniel
For more information, please visit https://www.facebook.com/events/280869479718514/.
Virtual Comedy Show AAIWO Fundraiser
Association of Asian Indian Women in Ohio (AAIWO) invites you to a Virtual Comedy Show event on Saturday, June 13th, at 9 pm EST. They are raising funds to make masks for marginalized communities, support the local food bank and provide scholarships for eligible women and youth in our community.
The event will feature Emmy-nominated standup act Basile The Comedian (www.basilelive.com) with a lineup of comedians as below:
Jaya Bidari
Jaya has been showcased on Nick@Nite's America's Funniest Moms TV show. She has performed at Las Vegas Comedy Festival, Cleveland Comedy Festival, and at Comedy Clubs in major cities across the US.
Sumukh Torgalkar
Sumukh began as a stand-up comedian in Columbus, Ohio and helped organize numerous comedy festivals and independent shows which led him to being labeled one of Columbus Alive's "People to Watch." He now splits time between the beautiful plains of Colorado and Los Angeles. He has opened for such major acts as Reggie Watts, Russell Peters, Maria Bamford, Kyle Kinane, and Chad Daniels. His stand-up comedy album, The Mispronunciation of Sumukh Torgalkar is in regular rotation on SiriusXM Radio's family friendly Laugh USA (Channel 98).
Sam Bendekgey
Sam has been doing stand-up for ten years.  He has performed both in the US and abroad. He used to play in clubs and colleges around the country until the quarantine started.  Now, he spends his time telling jokes to his wife and his two cats.  His wife is getting annoyed, but the cats seem to enjoy it.
For more information, please visit https://www.eventbrite.com/e/virtual-comedy-show-aaiwo-fundraiser-tickets-106834346406.
Donation-Based Beach Yoga for Every BODY
Join The Studio Cleveland for Yoga for Every Body's 7th year at Edgewater Beach!
This is a donation-based class and all are welcome to participate!
We meet every Saturday at 10am on the beach at Edgewater State Park near the beach house.  Please advise that during inclement weather, our indoor location is at The Studio Cleveland located at 1395 W. 10th St. Ste. 120, 44113, located in the east bank of the flats (free parking on weekends).
You will be guided through an all-levels and gentle, relaxing yoga class on our own beautiful beach.
Be prepared for sun and the elements! Dress appropriately for the day, bring water, sunscreen and anything else you may need. Bring a towel or a mat to practice on.
You can pre-register your spot by following the ticket link and booking with The Studio Cleveland's mindbody system or you can leave a cash donation in the jar at the beach or leave a virtual donation (see instructions below)!  Donations are appreciated but never expected.
COVID UPDATE:
-Mandatory 6 feet apart/spacing between mats
-Masks optional, not required since we are outdoors
-No hands-on assists/no physical contact
**Please adhere to the 6 feet social distancing so we do not get in trouble and have to end our Summer Beach Yoga 🙂
**Donations can be left electronically via PayPal/Venmo to prevent contact if needed:
PayPal: www.paypal.me/thestudiocleveland
Venmo: @TheStudioCleveland
Kamm's Corners Farmers Market
The Kamm's Corners Farmers Market is scheduled for its 14th Season in West Park!
Join us at the corner of W. 168th and Albers Avenue as the market kicks off its 14th Season of fresh produce, music, chef demos, artisans and makers, and community building.
Farmers, artisans, and professionals participating in our market come from as close as a mile away to dozens of miles away, but virtually all of the offerings are from Northern Ohio and are grown or made by the vendors themselves. The market also boasts live musical entertainment, chef demonstrations that feature local chefs, and healthy living features that bring local health advocates to the market to provide health screenings and information. Local makers and artisans will be selling their talents. New to 2020 sustainability programs and family activities!
For more information, please visit https://www.facebook.com/events/2671417886477626/.
Virtual 5k Run and 1 Mile Walk
Join the Transplant House of Cleveland "virtually" for the 3rd Annual Transplant House of Cleveland Cares 5K Run & 1 Mile Walk this Sunday Jun 14 from 8:30 a.m. – 12 p.m.
Transplant House of Cleveland wanted to host a joyful gathering on their front lawn, greet you with warmth and give tours of our expanded community space, but we all know that being physically close is not what's best for us this June. Despite being apart, we can still come together virtually to celebrate the healing power of community.
You can complete your run or walk wherever you are and post photos and videos on our Facebook page (or email them directly to us). If you'd like to see your results posted on the Hermes website, please send them to Adam at apetrovic@hermescleveland.com by June 21st.
Virtual Runner: $35 – includes a tech t-shirt that will be mailed to you! Registration ends at 9am on June 12th.
Generously Sponsored By:
Brian & Diane Vitale
Brinker Capital
University Hospitals
Jerry and Jill Wichtel
Allied Wealth Partners
Memory of Irene Kosco
Cleveland Clinic
John & Cynthia Sullivan
Family of Paul Reilley
Gloria Trimmer
University Circle Inc.
Joy and Brian Bushwell Family
Memory of Nita and Lou Gibb
Lifebanc
Living Centric
Community, A Walgreens Pharmacy
Dicks Sporting Goods
Contact Lauren Brocone if you are interested in learning more about our sponsorship opportunities at laurenb@transplanthouseofcleveland.org or 440.340.3922.
Transplant House of Cleveland has not been immune from the effects of COVID-19. Every single revenue stream that supports this organization has been impacted and your support of this event will be appreciated by many. All proceeds benefit our work, which provides affordable, temporary housing and a welcoming, supportive community to organ transplant patients and their families. This population is among the most vulnerable right now and Transplant House remains steadfast in our commitment to them.
Stay tuned to OnCleveland.com, your site for fun, free, local entertainment for upcoming events in our weekly column, FUN10, every Sunday!
#Fun10Cleveland
Tess Abney is a freelance writer who was born and raised in the Quad Cities. She spends most of her time attempting to successfully raise three boys. In her free time, writing is her passion. Whether it is sharing local events and businesses with readers or sharing her thoughts on life, she finds comfort in the way words can bring people together.