10 Fun Things To Do Week of June 21st: Art, Grunge, Disco and MORE!
OnCleveland.com proudly presents our newest feature, FUN10, a list of the top 10 things to do in the Cleveland this week, and every week! Every Sunday, we'll drop a new FUN10, to give you a head start on your week and a heads up on what's going on over the coming seven days. Check out FUN10 every Sunday for the details on ten awesome events happening around town. It's a cool read, and a great way to get started planning your entertainment for the week.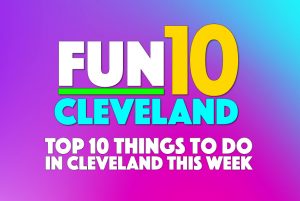 Due to the cancellation of so many regularly scheduled events in Cleveland – with more coming in every hour – we're focusing this week's edition of Fun10Cleveland on fun entertainment you can enjoy in the safety of your own home or while practicing safe 'social distancing' while the state begins to open back up.
FUN10 — ten ways for you to have fun in the Cleveland, this week and every week, running every Sunday, only on your site for fun, free, local entertainment, OnCleveland.com!
So what's on the FUN10 for this week? Read on …
Art Made in the Shut Down
Join the YARDS Project (725 Johnson Court Cleveland) for Art Made in the Shut Down this Wednesday Jun 24 at 10 a.m.
From YARDS Projects' Facebook page:
"Artists generally have an overflowing volume of work that is ongoing and never ceases to stop. Artists make work so they can bring it to life, because they are driven to see what it is going to look like.  When the world shut down, artists did not.  Yards Projects at Worthington Yards and the Collective Arts Network team up to showcase the work that was produced during this shut down period.  As studios, galleries and many community maker spaces are opening, we wanted to create a space to show the work that was made during this historical time.
Artists make work that chronicles cultural shifts and the historic moments of social change. This makes the task all the more difficult when so many are isolated in their own homes.  Artists changed their studio practice because their community shops, dark rooms, ateliers, and fabrication spaces were closed as well. Artists took risks, made work differently, and opened themselves up to new approaches in their work. We'd love to see what the art from the people who don't necessarily call themselves artists  make during this time too.  All are welcome.
Artists depend on people being able to see that work. They depend on their followers, new and old, having disposable income to put towards artworks, as well as philanthropic organizations who often provide the financial backing for grants, commissioned projects or special events. Both have been nearly wiped out by the 'shelter-in-place'. Artists had shows that were postponed indefinitely and yet their making never stopped.
Many artists have not been able to get all the ideas in their heads out and the quarantine was the opportunity for them to press pause.  The Shut Down gave them the time to work through some of those concepts that they may have overlooked in their previous practice.
This time has also given creatives a platform to share their work in new ways and continue to touch people's minds and emotions from the safety of our homes. The process is simple…contact Liz Maugans at lizmaugans@gmail.com or yardsprojects@gmail.com and let her you are interested. She will send you a form that can be signed and attached when you drop the work off on June 20th between 12-4pm at 725 Johnson Court."
Virtual Opening: Waterloo Arts Juried Exhibition
Join Waterloo Arts this Wednesday Jun 24 from 5:30 – 6:30 p.m. for Virtual Opening: Waterloo Arts Juried Exhibition (R-Z).
During this Zoom event, we will feature the works of artists in the Waterloo Arts Juried Exhibition with last names beginning with R-Z. Grab a glass of your favorite beverage and enjoy the artwork and hearing from the artists in this exhibit and Juror Arnold Tunstall. Depending on how many artists are able to join, the event will be 1-1.5 hrs. Feel free to join anytime. We'll be done in time for dinner!
For the complete list of accepted artists visit: http://waterlooarts.org/
Virtual History on Tap – PRIDE
This month, Cleveland History Center is shining the spotlight on Cleveland's LGBTQ+ history with Virtual History on Tap: PRIDE. Grab a cocktail and join us and the LGBT Community Center of Greater Cleveland for this special online happy hour this Friday Jun 26 from 6:30 – 7:30 p.m. as we discuss the rich history of the LGBTQ+ community, including the birth of the LGBT Community Center, local activism, and more.
Enjoy presentations from our Cleveland history experts (plus some very special guests), engage in live Q&A, and even learn a fun new drink recipe or two! Click below to reserve your spot.
For more details and to register, head to: https://www.wrhs.org/events/virtual-history-on-tap-pride/
Note: This event will be held through the Zoom platform. When you register, we will email you a link that will allow you to join, as well as all necessary login information and instructions.
Grunge DNA at Smedley's Bar and Grille
Get your live music needs fulfilled this weekend!
Head out to Smedley's Bar and Grille (17004 Lorain Ave Cleveland) this Friday Jun 26 for live music from Grunge DNA!
From Grunge DNA's Facebook Page:
"Hello there!!!  Grunge DNA and Smedley's Bar and Grill have some very cool news to announce and we want to share it with all of you right now.  Grunge DNA and Smedley's are teaming up once again in 2020 to bring you the best rock and roll that the 90's and the grunge era has to offer.  Grunge DNA will be back at Smedley's five times in the 2020 calendar year and this is one of those shows.  The music will start at 10:00 PM and we will be rocking out with three full sets all the way until 2:00 AM.  As you know, a Grunge DNA show at Smedley's never disappoints.  If you have not seen a Grunge DNA show at Smedley's, it is time that you make that happen.  Thank you for the support and we will see you at Smedley's Bar and Grill on June 26th 2020."
Faith & Whiskey Live at Collision Bend Brewing
Looking for some live music this Friday night? Then look no further!
Faith & Whiskey will perform live this Friday Jun 26 from 9 – 11:45 p.m. at Collision Bend Brewing Company (1250 Old River Road Cleveland).
For more information, please visit https://www.facebook.com/events/250889146165384/.
Inside OUT Project
Awaken your senses and join the Waterloo Arts District for an abundance of art exhibitions by local artists Monday June 15 through  Sunday July 5th.
_____________________________________________________________
Contrast High, Pop Life Universe, and Culture Jock are collaborating with a curated list of local artists in transforming the existing store fronts on Waterloo Rd. into genuinely exciting pop-up art exhibits that can be viewed from the street and provides for a perfect photo backdrop and Instagrammable destination spot. The artists will have the opportunity to express themselves as they share their messages throughout the neighborhood + beyond.
While we realize most people are choosing to go digital during this time of social distancing, we also recognize the need to get outside, take a walk, go for a drive, get your culture fix and capture some fresh, real-life content.
'Inside Out' captures the true heart of the human spirit, demonstrating that we have the power to choose our narrative based on our perspective and how we "Reframe our View." This is not only an opportunity to bring the community together through creativity; it also supports local artists that may have been financially and emotionally impacted through this time of isolation.
Our hope is that people take the time to explore and feel encouraged. That they take in the moment and realize that all we have is NOW. It's free-ing, fun, and inspiring.
For more information, please visit https://insideoutproject.splashthat.com/.
Artists Include:
Chad Fedorovich
Aaron Williams
Amanda Nyx (Fiercely Serene)
Contrast High (Gina Scordos + Jenna Conforti )
Isaiah Williams (StarBeing)
JayePinot
Molly Fitzpatrick
Laurynn Dillignham
Museum of Creative Human Art
Alexis Moten (Culture Jock)
Collinwood High School Class of 2020
Jae Andres
Niquo Braxton
Antwoine Washington
Guitar in the Garden
Join Cleveland Maennerchor (4515 State Rd. Cleveland) this Saturday Jun 27 from 6 – 9 p.m. for Guitar in the Garden.
Scott Duress will perform with his acoustic guitar – Acoustic rock, Folk Music, Country Music and 50's to Present Day.
This event is FREE to members, and $5.00 for non-members
It will take place in our Biergarten.
The Clubhouse will be open from 2pm to 10pm.
Scott will perform from 6:00pm to 8:30pm.
Please come out and support the Club!
For more information, please visit, https://www.facebook.com/events/724309981705733/.
Boozin' Through the 90s Bar Crawl
Cleveland, do you miss the 90s, wearing jncos, overalls, bright colors, or even pigtails? Well we do! That's why we are bringing back the 90s by boozin' at the TOP venues in Flats East Bank & Warehouse District! So dig through your closet to find your old clothes & come dance the day away while listening to *NSYNC, Backstreet Boys, Brittany Spears and Hanson…. mmm bop!
Join Bar Crawl Live this Saturday Jun 27 from 3 – 10 p.m. in the Warehouse District & Flats East Bank in Cleveland.
For more information, please visit https://barcrawllive.com/crawl/ninetiescle/.
Third Monkey Rocks Willow Lake Park
Third Monkey makes their debut at Willow Lake Park in Valley City!
Enjoy live music from Third Monkey this Saturday Jun 27 from 8 – 11 p.m. at Willow Lake Park (2400 Substation Rd. Brunswick).
For more information, please visit https://www.facebook.com/events/525947538254593/.
Disco Party at Shooters!
Have a little Sunday Funday at Shooters on the Water!
Shooters on the Water (1148 Main Ave Cleveland) along with Disc Inferno are throwing a Disco Party on the deck! The fun kicks off at 4 p.m.
For more information, please visit https://www.facebook.com/events/596631320884526/.
Stay tuned to OnCleveland.com, your site for fun, free, local entertainment for upcoming events in our weekly column, FUN10, every Sunday!
#Fun10Cleveland
Tess Abney is a freelance writer who was born and raised in the Quad Cities. She spends most of her time attempting to successfully raise three boys. In her free time, writing is her passion. Whether it is sharing local events and businesses with readers or sharing her thoughts on life, she finds comfort in the way words can bring people together.