10 Fun Things To Do Week of June 14th: Salsa, Mimosas, Music and MORE!
OnCleveland.com proudly presents our newest feature, FUN10, a list of the top 10 things to do in the Cleveland this week, and every week! Every Sunday, we'll drop a new FUN10, to give you a head start on your week and a heads up on what's going on over the coming seven days. Check out FUN10 every Sunday for the details on ten awesome events happening around town. It's a cool read, and a great way to get started planning your entertainment for the week.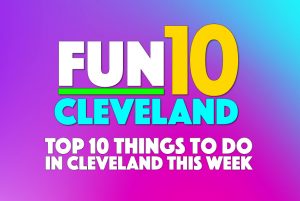 Due to the cancellation of so many regularly scheduled events in Cleveland – with more coming in every hour – we're focusing this week's edition of Fun10Cleveland on fun entertainment you can enjoy in the safety of your own home or while practicing safe 'social distancing' while the state begins to open back up.
FUN10 — ten ways for you to have fun in the Cleveland, this week and every week, running every Sunday, only on your site for fun, free, local entertainment, OnCleveland.com!
So what's on the FUN10 for this week? Read on …
Beachland Presents: Waxahatchee Weekly Livestream Concert
Join The Beachland Ballroom and Tavern every Monday, from June 8th until July 6th, of 2020 for Waxahatchee Weekly Livestream Concerts.
$15 SINGLE SHOW
$50 ALL SHOWS
$60 ALL SHOWS + SCREENED PRINT POSTER
ALL AGES / ONLINE ONLY
*Taxes and Service Fees Not Included.
Dates & Album's to Be Played Live
June 8th – American Weekend
June 15th – Cerulean Salt
June 22nd – Ivy Tripp
June 29th – Out In The Storm
July 6th – Saint Cloud
Beachland Presents: Waxahatchee Weekly Livestream Concert on https://noonchorus.com and www.waxahatchee.com.
Live stream begins at 9pm EST, every Monday in June with 24-hr on-demand rebroadcast at 12 midnight EST.
Tickets: https://noonchorus.com/beachland-presents-waxahatchee/
Please note, this is Beachland's official link, and to not be tricked by companies not using noonchorus.com links. We've seen scamming going around online, and we encourage reporting non-official links.
Mom's & Mimosas
Come cruise the Cuyahoga with us and leave your worries, and kids, behind!
Tiki Barge (1180 Main Ave. Cleveland) presents Mom's & Mimosas this Wednesday Jun 17 from 10 a.m. – 12 p.m.
This cruise was created for all the Moms who need a break. In addition to two kid-free hours on the water, each ticket includes a sweet treat and a mimosa.
Tickets are $40 per person/ $700 for a private cruise for 20.
Moms and Mimosas takes place every weekday Monday – Thursday at 10am in June.
Grab some friends for a fun morning on the Cuyahoga!
Tickets available at cletikibarge.com
Pieces of Eight Live at Collision Bend Brewing Company
Looking for some live music to end out the work week?
Head to Collision Bend Brewing Company (1250 Old River Road Cleveland) this Friday Jun 19 from 9 – 11:45 for some live music from Pieces of Eight featuring the Lakeside Brass.
For more information about this show, please visit https://www.facebook.com/events/248406206471677/.
About Pieces of Eight
Classic Rock with horns! You know the songs as soon as they start. Pieces of Eight featuring the Lakeside Brass delivers a musical can of beer that goes great with a crowd raised on Rock & Roll. The band first performed at Wickliffe High School in 1979. The next year, Pieces of Eight made their public debut at the Flipside, a small bar located in South Euclid, Ohio. Fast forward to today and 2020 marks an epic career spanning more than 40 years of the band performing authentic Rock & Roll in the Cleveland area. Eight veteran musicians with a dynamic horn section highlights the rest of the lineup of guitars, keyboards and drums. The band members includes guitarists Kurt Kendig and Ken Cali, keyboardist Pat Rehmer, drummer Joe Blatnik, bassist Joe Lazar, and horn players Dan Hannan on trombone, Al Widmer on trumpet, and Gary Motta on tenor sax.  For good measure, Mike Winfield sits in on bari sax every now and again.
Juneteenth Celebration
Join Squash the Beef and Sol Bowl on Friday Jun 19 from 11 a.m. – 7 p.m. for a Juneteenth Celebration! Festivities will take place in the outside parking lot adjacent to Unbar Café (12635 Larchmere Blvd Cleveland).
Enjoy Vegan Food from your favorite Black-Owned Vegan Companies!
For more information, please visit https://www.facebook.com/events/594968744479394/.
Cats On Holiday at Sainatos!
Cats On Holiday return to Sainato's (1852 Columbus Rd Clevalnd) at Rivergate "Rockin the Back 40".
COH will perform from 5-8 on Sat. June 20. They will be set- up in the rear parking lot  of Sainato's.
Absolute safe distancing with acres of green space on the East bank of the Cuyahoga River. Food and Drink provided by Sainato's.
For more information, please visit https://www.facebook.com/events/2957439047643136/.
Hooley at Home
While West Park Kamm's Neighborhood Development is disappointed they can't hold The Hooley on Kamm's Corners™ that all of us know and love this year, they're bringing the event to your house with neighborhood yard parties, a streaming concert and food specials from participating West Park restaurants here's a sneak peak at a few ways you can Hooley at Home with us!
Hooley at Home Social Hour
Join neighbors in celebrating summer with an Apron Party – grab lawn chairs, chalk, drinks, your guitar, or whatever else sounds fun and head out to the apron of your driveway for block party social distancing style!
Hooley at Home Music Festival
Keep the party going while you tune in to special performances by Hooley bands from your own home or yard!
Get the Hooley Food and Fun you Crave
Get the Hooley food you crave from your favorite local restaurants and bars featuring weekend Hooley themed food specials and party packs!
For more information, please visit https://www.facebook.com/events/1170888503114320/.
Salsa Nights
Salsa Nights at Choukouya Resto-Bar (4620 Richmond Road Suite 290 Cleveland) every 1st. and 3rd. Saturday of the month!
No cover! Free spacious parking. The dance floor is huge!
We will have a full menu with delicious African food and drink specials!
There will be a free dance lesson from 9:00 to 10:00 P.M.
Open dancing starts at 10:00 P.M.
Couples, singles and well, everyone is invited! Share it with your friends. See you all on the dance floor!
Like DJ YAMA's Facebook page for more updates and dancing events!
For more information, please visit https://www.facebook.com/events/232320804561313/.
1 Year Anniversary Celebration for Kali & Co.
Kali & Co. is ready to celebrate their 1 Year Anniversary and they hope you can come join them!
Kalie & Co.'s official 1 year anniversary was in April, and they are simply over joyed and blessed they are able to be here and would like to thank you for making it all possible.
Come shop and celebrate with us this Saturday Jun 20 from 2 – 6 p.m.
They have will special promotions, drawings and much more. Invite your friends and family. Your name will be entered for a special drawing for each guest you invite and comes to the event!
Kali & Co. will also be spacing out displays for more distance in the shopping area! Please RSVP so they can plan accordingly.
For more information, please visit https://www.facebook.com/events/253506045973980/.
Cleveland Bazaar in Market Square Park
Cleveland Bazaar is excited to return to Market Square Park with their 2020 summer event series!
Shop handmade with our local and regional artists, then check out the West Side Market, Great Lakes Brewing Company, Market Garden Brewpub and all the other neighborhood businesses that make Ohio City Incorporated great!
Each summer Bazaar market features a rotating lineup of talented makers, artists and more.
Follow us on Instagram: https://www.instagram.com/clebazaar
All currently-open applications (including holiday 2020) are now online at https://clevelandbazaar.submittable.com/submit
Lute Fest 2020
Join the Lute Society of America for Lute Fest 2020, beginning this Sunday Jun 21 and running through Saturday Jun 27.
This weeklong festival is dedicated to lutes, theorbos, and early guitars! World class concerts from world renowned performers, private lessons, masterclasses, and courses offered on particular subject matter! (Scholarships available) More to come soon!
Faculty include:
Robert Barto
Nigel North
Xavier Diaz-Latorre
Paul O'Dette
Hopkinson Smith
Bor Zuljan
For more information, please visit https://www.facebook.com/events/409726933036776/.
Stay tuned to OnCleveland.com, your site for fun, free, local entertainment for upcoming events in our weekly column, FUN10, every Sunday!
#Fun10Cleveland
Tess Abney is a freelance writer who was born and raised in the Quad Cities. She spends most of her time attempting to successfully raise three boys. In her free time, writing is her passion. Whether it is sharing local events and businesses with readers or sharing her thoughts on life, she finds comfort in the way words can bring people together.