Learn About Historical Givers And Shakers
Come learn some Cleveland history while enjoying a beautiful day outdoors, this weekend.
Lake View Cemetery (12316 Euclid Ave Cleveland) is hosting a Historic Givers and Shakers Tour this Sunday May 6 from 2-4 p.m.Learn about rich, famous and not so famous Clevelanders and how their philanthropy benefited the city, nation and world. Kermit Pike, former Library Director of the Western Reserve Historical Society, will lead this tour conducted on Lolly the Trolley, with some walking involved.
Admission for this tour is $35 and reservation are required. You can register online at https://production.gobigriver.com/store/Item.seam;jsessionid=FD1DDA701FD865FD3BBE24B951C248FE?commerceCampaignFormId=3697&categoryId=232&orderableItemId=34165&cid=72463.
Package includes: tour, the book, John D. Rockefeller on Making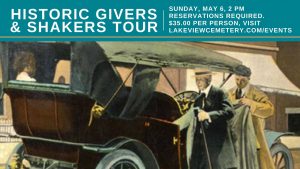 Money: Advice and Words of Wisdom on Building and Sharing Wealth, followed by a wine tasting in Daffodil Hall. Tour begins and ends at Daffodil Hall.
For more information and directions to Daffodil Hall, visit https://production.gobigriver.com/store/Home.seam?commerceCampaignFormId=3697&cid=72571.
Tess Abney is a freelance writer who was born and raised in the Quad Cities. She spends most of her time attempting to successfully raise three boys. In her free time, writing is her passion. Whether it is sharing local events and businesses with readers or sharing her thoughts on life, she finds comfort in the way words can bring people together.