Hellzapoppin Freak Show Coming to The Agora
Things are getting FREAKY at The Agora!
Come experience Hellzapoppin Freak Show at The Agora (5000 Euclid Ave. Cleveland) this Monday Oct 29 at 7 p.m.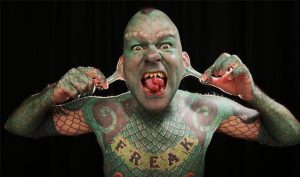 You might have seen Hellzapoppin's feature performer The LIZARD MAN's life-sized wax figure featured inside Ripley's Believe It Or Not museums all over the world. The Lizard Man is a self-made FREAK tattooed from head to toe with green scales complete with a split tongue and implanted horns on his head and arms. He's appeared on TV shows all over the world. You'll see the world's smallest midget escape artist Nik Sin and you'll witness with your own eyes the world's most amazing half-man Short E. Dangerously who's featured in the new Ripley's Believe It Or Not book Shatter Your Senses! You'll see the Govna himself, sideshow stuntman and Hellzapoppin's creator Bryce Graves.
AS SEEN ON TV (America's Got Talent, Travel Channel, Discovery, Telemundo, NatGeo) and also in the new Ripley's Believe It Or Not book Shatter Your Senses, Guinness Books of World Records and more.
They're mavericks, trail blazers, rebels, rule breakers, outlaws…true uninhibited artists. They deliver their message through sideshow and they fuel their art through passion. Named after the most successful Broadway musical and movie from the late 30's and 40's, Hellzapoppin Circus SideShow Revue is a world renown theatrical circus thrill-show where some of the deadliest stunts in live entertainment are performed to loud crowd-pleasing musical tracks.
Spectators will experience one of the world's last authentic circus sideshows with performances using the human anatomy and death-defying stunts and demonstrations of mind over matter, yet with no blood and no pain. This vaudeville freak show of wonder features LIVE stunts like: Fire eating & fire breathing, Illusions, Escape Artist, Bed of nails, The human block-head, Acrobatic Hand-Balancing, Sword Swallowing Human oddities & curiosities like a real-live half-man who walks on his bare-hands in broken hot shards of glass on fire and more!
Advance tickets $13 and $17 on the day of the show. Purchase your tickets today at https://www.ticketweb.com/event/hellzapoppin-the-agora-ballroom-tickets/8716165?pl=agora.
Tess Abney is a freelance writer who was born and raised in the Quad Cities. She spends most of her time attempting to successfully raise three boys. In her free time, writing is her passion. Whether it is sharing local events and businesses with readers or sharing her thoughts on life, she finds comfort in the way words can bring people together.