Cleveland Orchestra Announces 2019 Blossom Music Festival
The Cleveland Orchestra announces its 2019 Blossom Music Festival season, presented by The J.M. Smucker Company. Twenty concerts will be part of the Blossom Music Festival, taking place from the weekend prior to the Fourth of July through Labor Day weekend (June 29 – September 1).
This summer, discover rising stars, experience living legends, and welcome back returning friends. Seventeen soloists, conductors, and special guest performers will be making debuts this summer, continuing the Orchestra's commitment to bring emerging young artists to Northeast Ohio during its annual summer festival. In addition to these sensational newcomers, Blossom audience favorites join music legends in thrilling performances on the festival stage.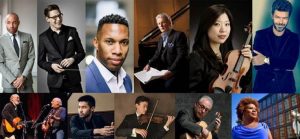 This exciting and varied slate of artists and conductors includes:
Winner of the prestigious Georg Solti Conducting Award in 2018, American conductor Roderick Cox makes his Blossom Festival debut in a program including Tchaikovsky's crowd-pleasing "1812" Overture and music by Leonard Bernstein during the worldwide celebration of the composer's 100thbirthday. Rising jazz superstar pianist Aaron Diehlreturns to the Blossom stage for an original take on Gershwin's ever-popular "Rhapsody in Blue." Praised by New York Times jazz critics for "melodic precision, harmonic erudition, and elegant restraint," Diehl has performed with jazz greats Wynton Marsalis and Cécile McLorin Salvant. (July 5 & 6).
Featured on The New York Times'2018 list of the Best Classical Music and renowned as both a pianist and composer, Conrad Tao continues his busy schedule performing with top orchestras by debuting with The Cleveland Orchestra for Prokofiev's Piano Concerto No. 3. (July 13).
Young Finnish conductor and newly-appointed Chief Conductor of the Oslo Philharmonic Klaus Mäkelä makes his Cleveland Orchestra debut leading a program that includes Bruch's melodic Violin Concerto No. 1, featuring another debut — 17-year-old Swedish violin prodigy Daniel Lozakovich(July 20).
Legendary classical guitarist Pepe Romerowill perform with The Cleveland Orchestra for the first time in over 50 years with Rodrigo's colorful Concierto de Aranjuez for Guitar and Orchestra (July 21).
The Cleveland Orchestra's ownJung-Min Amy Lee makes a Blossom solo turn with Barber's lush and masterful Violin Concerto (August 10).
Continuing the celebration of "Bernstein at 100," Blossom audiences can discover the composer's rarely-performed Symphony No. 1 ("Jeremiah"), plus Rachmaninoff's lush Symphonic Dances, led by Cleveland Orchestra Assistant Conductor Vinay Parameswaran(August 24).
Brian Wilson, legendary songwriter and co-founder ofThe Beach Boys, along with long-time bandmates Al Jardine and Blondie Chaplin, joins the Blossom Festival Orchestra to perform the classic album Pet Sounds in its entirety, along with other chart-topping hits (August 11).
Peter Yarrowand Noel "Paul" Stookey — singer-songwriters from the influential American folk group Peter, Paul and Mary — join The Cleveland Orchestra to perform some of the group's most beloved songs (July 7).
Audience-favorite, vocalist Capathia Jenkins, returns to the Blossom stage for a tribute to the Queen of Soul —Aretha Franklin. Also joined by Ryan Shawand the Blossom Festival Chorus, hear The Cleveland Orchestra perform hits like "Chain of Fools," "Respect," and "A Natural Woman" (July 28).
The classic Rodgers and Hammerstein musical, The Sound of Music,will be performed in concert with singers from the Baldwin Wallace University Music Theatre program (August 24).
In addition to the incredible artists onstage, the programming this summer offers audiences a wide range of music to explore. Concert selections range from treasured classical works — such as Elgar's Enigma Variations, Beethoven's Piano Concerto No. 5 ("Emperor"), and Brahms's Symphony No. 1 — to rarely-heard music for Blossom audiences to discover—including Zemlinksy's Die Seejungfrau [The Mermaid], based on the Hans Christian Andersen classic The Little Mermaid.
These highlights join the previously announced films included on the 2019 season, Harry Potter and The Sorcerer's StoneTM (June 29 & 30) and Star Wars: The Empire Strikes BackTM (August 30 & 31). Due to popular demand, an additional concert of the beloved action-packed film Star Wars: The Empire Strikes BackTM will take place on Labor Day Weekend (September 1). See the calendar listing below for updates to the featured artists and times for these concerts.
Details of the 2019 Blossom Music Festival season, including the full list of Cleveland Orchestra and Festival soloist and conductor debuts, are available in the Calendar section below and online at clevelandorchestra.com. Concert schedules and series renewals are being mailed to subscribers of last year's Festival, and new series packages are available for purchase now. Lawn Ticket Books are also on sale now. Individual tickets for the entire season go on sale to the general public in April.
BLOSSOM MUSIC CENTER GUEST EXPERIENCE
The Cleveland Orchestra is committed to providing a world-class guest experience for all visitors to Blossom Music Center. Every year, Blossom audiences eagerly await a summer of picnics on the lawn, gatherings with friends and family, and incredible music under the stars. Updates at Blossom that will enhance that already-top-notch experience include:
The Tasting Room— a new bar space located steps away from the Lot A entrance to Blossom — will open at the start of the Blossom Music Festival season. With seating extending to Eels Gallery, this spot offers guests plenty of room to relax and spend time with friends and family before or after a concert. The menu includes a full bar with a wide variety of liquor, beer, and wine options. After the concert, dessert service is available, allowing guests a comfortable space to lounge and dine while avoiding the post-concert crowds.
In 2018, new, state-of-the-art, LED screens were installed in the Pavilion of Blossom Music Center. Image Magnification (IMAG) willreturn for the 2019 Blossom Music Festival season. IMAG is a display of live footage from the concert onto the screens, giving audience members the opportunity to clearly see the musicians onstage. The Orchestra will partner with ideastream® — a non-profit multiple media public service organization that operates WVIZ/PBS, 90.3 WCPN, and WCLV 104.9 — to produce the IMAG feed for several of these concerts. For more information about ideastream, visit ideastream.org.
Want a picnic without having to shop or load up the car? Gourmet picnic packages can be pre-ordered onclevelandorchestra.comand picked up in the Special Events Center on all Festival concert evenings.
Special refreshments and light bites will be offered to subscribers and donors in Kulas Plaza before select Blossom Music Festival concerts.
A Lego model of Blossom Music Center was created last year to celebrate the 50thAnniversary. This model — built with more than 7,500 Lego bricks — will be on display in Eels Gallery throughout the 2019 Blossom Music Festival season.
FAMILY-FRIENDLY "UNDER 18S FREE" TICKETS CONTINUE AT EVERY BLOSSOM MUSIC FESTIVAL CONCERT
"Under 18s Free" is a program of The Cleveland Orchestra's Center for Future Audiences. The Center, created with a lead endowment gift from the Maltz Family Foundation, was established to fund programs to develop new generations of audiences for Cleveland Orchestra concerts in Northeast Ohio. "Under 18s Free" continues to develop young audiences by making attending Orchestra concerts affordable for families, once again offering free Lawn tickets to young people (17 and under) for every Blossom Music Festival concert this season. Over 150,000 young people have attended Blossom Music Festival concerts since the Center for Future Audiences was inaugurated.
At Blossom, this program offers free "Under 18s Free" Lawn Passes (two per regular-priced adult paid admission) to young people to any Blossom Music Festival subscription concert each summer. These tickets can be ordered online (once individual tickets for each Blossom season go on sale) or through the Ticket Office. "Under 18s Free" tickets are also available as part of Lawn Book purchases (see below for more details).
2019 BLOSSOM MUSIC FESTIVAL SPONSORS
The Cleveland Orchestra is proud to partner with The J.M. Smucker Company as the Presenting Sponsor of the 2019 Blossom Music Festival.
The J.M. Smucker Company and The Cleveland Orchestra
The J.M. Smucker Company has supported The Cleveland Orchestra for decades with annual contributions as well as capital gifts for improvements at Blossom Music Center. The company's ongoing, remarkable support has been recognized through concert sponsorship at Blossom for over a decade, and has earned membership in the Orchestra's John L. Severance Society — a group of the Orchestra's most dedicated and generous corporate, foundation, and individual supporters. Additionally, The J.M. Smucker Company was a co-presenting sponsor of The Cleveland Orchestra's Second Century Celebration, bringing the Orchestra's 100th season to life while animating a bold vision for an extraordinary Second Century.
Cleveland Orchestra Board Chair Richard K. Smucker is the Executive Chairman of The J.M. Smucker Company, which was founded more than a century ago by Mr. Smucker's great-grandfather, Jerome Smucker. Today, The J.M. Smucker Company is a leading marketer and manufacturer of consumer food and beverage products, as well as pet food and pet snacks, in North America. The company remains rooted in the Basic Beliefs of Quality, People, Ethics, Growth, and Independence established by its founder and namesake more than 120 years ago.
About ideastream
ideastream serves the people of Northeast Ohio as a trusted and dynamic multimedia source for illuminating the world around us. Publicly supported and locally owned, ideastream is indispensable and highly valued for its unique ability to strengthen our community. ideastream is the consolidation of WVIZ/PBS, with five channels of public television service (WVIZ/PBS-HD, WVIZ/PBS OHIO, WVIZ/PBS WORLD, WVIZ/PBS CREATE and WVIZ/PBS KIDS); 90.3 WCPN, Northeast Ohio's NPR news and public affairs radio station; WCLV 104.9, Northeast Ohio's classical music radio station; ideastream Education, with educational resources, services and the award-winning children's series NewsDepth; and management of The Ohio Channel and the Ohio Public Radio and Television Statehouse News Bureau on behalf of all Ohio's public broadcasting stations. For more information about ideastream's rich legacy of innovation and credible content, visit ideastream.org.
A Special Thank-You
Deep gratitude goes to the entire Northeast Ohio community, The J.M. Smucker Company, The Goodyear Tire & Rubber Company, and all of our sponsors, whose incredible support, dedication, and generosity makes possible these magical evenings at The Cleveland Orchestra's beautiful summer home.
2019 TICKET AND SUBSCRIPTION INFORMATION
Subscription Renewals are currently underway with Premier Subscriptions, Create-Your-Own Series, and Lawn Ticket Books now available for purchase. Individual concert tickets go on public sale in April by telephone, in person at the Severance Hall Ticket Office, and online at clevelandorchestra.com. Tickets start at $25. The Blossom Box Office opens for the season beginning on Saturday, June 1, and will be open throughout the summer on Saturdays and Sundays from 1:00 to 5:00 p.m. and from 1:00 p.m. through intermission on festival performance days.
Premier Subscription Series
The 2019 Blossom Music Festival features two four-concert "Classics" series and a five-concert "Pops" series. Ticket packages, on sale now, offer approximately 20% savings off individual-ticket prices. Ticket package prices start at $80, which includes free Lot B parking and access to Kulas Plaza. Box-seat ticket packages include complimentary parking in First Energy Lot A behind the main Box Office in addition to access to Kulas Plaza.
Create-Your-Own Series
A Create-Your-Own Series package is being offered again this season. When purchasing 4 or more concerts, there is a savings of approximately 10% off the individual ticket prices. There is no limit to the number of Create-Your-Own Series purchases. All subscribers receive free parking in Lot B.
Lawn Ticket Books Include Two Pavilion Upgrades and Qualify for the "Under 18s Free" Program
Lawn Ticket Books of ten vouchers are now available for $175 (a savings of up to $100). Lawn vouchers qualify for youth admission as part of the "Under 18s Free" program; each lawn book includes 20 "Under 18s Free" tickets.
Group Ticket Sales
Discounts are available for groups of 10 or more. Call the Cleveland Orchestra Group Sales Office at Severance Hall at 216-231-7493 for more information.
ABOUT BLOSSOM MUSIC CENTER, SUMMER HOME OF THE CLEVELAND
ORCHESTRA
Blossom Music Center was created as the summer home of The Cleveland Orchestra and opened in July 1968 with performances of Beethoven's Ninth Symphony conducted by George Szell. The 200-acre music park features the award-winning and acoustically-acclaimed Blossom Pavilion, designed by renowned Cleveland architect Peter van Dijk and seating over 5,000 under cover. The adjoining Blossom Lawn accommodates as many as 15,000 more outside on an expansive natural-bowl amphitheater of grass surrounded by bucolic woods.
In the half-century since Blossom's opening, headline makers and yet-to-be-discovered young artists across all genres have created unforgettable musical experiences for over 21 million visitors. Each summer, Blossom serves more than 400,000 visitors, who attend concerts ranging from rock, country, and pop to classical. Live Nation operates Blossom under a long-term contract with The Cleveland Orchestra, dividing each year between the Orchestra's Blossom Music Festival of orchestral performances (July Fourth to Labor Day weekends) and a series of presentations from across a wide range of rock, country, and other live-concert genres.
Located 25 miles south of Cleveland just north of Akron, Ohio, Blossom is situated in the rolling hills of Cuyahoga Valley National Park, which preserves 33,000 acres of natural parkland along the Cuyahoga River. Blossom Music Center was named to honor the Dudley S. Blossom family, who have been major supporters of The Cleveland Orchestra throughout its history. Blossom lies within the city limits of Cuyahoga Falls, an Ohio community first settled in the early 1800s, at 1145 West Steels Corners Road in Summit County.
2019 Blossom Music Festival Calendar
#cleorchblossom #blossom2019
HARRY POTTER AND THE SORCERER'S STONETM LIVE
Saturday, June 29, 2019, at 7:30 p.m.
Sunday, June 30, 2019, at 7:30 p.m.
The Cleveland Orchestra
Justin Freer, conductor– Blossom Festival debut
Blossom Festival Chorus
WILLIAMS  Harry Potter and the Sorcerer's StoneTM (film with live orchestral score)
Join us for an evening of music and magic as the acclaimed Cleveland Orchestra performs a live version of composer John Williams's notable score during a (giant!) screening of the first Harry Potter film.
HARRY POTTER characters, names and related indicia are © & ™ Warner Bros. Entertainment Inc. Harry Potter Publishing Rights © JKR. (s19)
SALUTE TO AMERICA
Wednesday, July 3, 2019, at 8:00 p.m.*
Thursday, July 4, 2019, at 8:00 p.m.*
Blossom Festival Band
Loras John Schissel, conductor

Great music, fireworks, and fun for the whole family for the 50th anniversary of the Blossom Festival Band! Blossom's traditional, star-spangled celebration features a mix of patriotic Sousa marches, Broadway favorites, an Armed Forces Salute, and more – concluding with fireworks!
* Denotes fireworks following the concert, weather permitting.
RHAPSODY IN BLUE
Friday, July 5, 2019 at 8:00 p.m.*
Saturday, July 6, 2019, at 8:00 p.m.*
The Cleveland Orchestra
Roderick Cox, conductor – Blossom Festival debut
Aaron Diehl, piano
BERNSTEIN  Symphonic Suite from On the Waterfront
GERSHWIN  Rhapsody in Blue
STRAVINSKY  Suite from The Firebird
TCHAIKOVSKY  "1812" Overture
Celebrate summer with four extraordinary scores by four extraordinary composers — performed by one of the world's finest orchestras. End your night with a bang — literally! — by listening to Tchaikovsky's 1812 Overture and watching a fireworks display.

* Denotes fireworks following the concert, weather permitting.
PETER & PAUL
Sunday, July 7, 2019, at 7:00 p.m.
The Cleveland Orchestra
Lucas Richman, conductor – Cleveland Orchestra debut
Noel "Paul" Stookey, vocalist – Cleveland Orchestra debut
Peter Yarrow, vocalist – Cleveland Orchestra debut
The iconic folk trio Peter, Paul and Mary made music together for nearly 50 years. In this intimate evening of song and reflection, Peter and Paul remember their enduring anthems of social change including "If I Had a Hammer" and "Puff the Magic Dragon," the historic impact they had upon the world of civil liberties, and the woman who completed their triforce of positivity, Mary Travers.
TCHAIKOVSKY'S FOURTH
Saturday, July 13, 2019, at 8:00 p.m.
The Cleveland Orchestra
Jahja Ling, conductor
Conrad Tao, piano – Cleveland Orchestra debut
MUSSORGSKY  "Dawn on the Moskva River" from Khovanshchina
PROKOFIEV  Piano Concerto No. 3
TCHAIKOVSKY  Symphony No. 4
Experience a clarion call for shimmering stars — Tchaikovsky's Symphony No. 4 was modeled in part on Beethoven's Fifth Symphony and is filled with the type of brassy fanfare seemingly intended for a midsummer's night.
BRUCH'S VIOLIN CONCERTO
Saturday, July 20, 2019, at 8:00 p.m.
The Cleveland Orchestra
Klaus Mäkelä, conductor – Cleveland Orchestra debut
Daniel Lozakovich, violin – Cleveland Orchestra debut
KODÁLY  Dances of Galánta
BRUCH  Violin Concerto No. 1
SIBELIUS  Symphony No. 5
Composer Max Bruch once said he loved the violin because it could "sing a melody better than a piano, and melody is the soul of music."  Hear Bruch's most melodic and soulful creation performed by teen prodigy Daniel Lozakovich in his Cleveland Orchestra debut.
ROMERO PLAYS RODRIGO

Sunday, July 21, 2019, at 7:00 p.m.
The Cleveland Orchestra
Pablo Heras-Casado, conductor
Pepe Romero, guitar – Blossom Festival debut
RIMSKY KORSAKOV  Capriccio espagnol
RODRIGO  Concierto de Aranjuez
DEBUSSY  Images
Inspired by one of Spain's royal gardens, Concierto de Aranjuez was composed by Joaquín Rodrigo to take listeners on a journey to another place and time with its hints of natural sounds. Here's an invitation to be transported by famed guitarist Pepe Romero, who's renowned for his interpretation of this cherished masterpiece.
ELGAR'S ENIGMA
Saturday, July 27, 2019, at 8:00 p.m.
The Cleveland Orchestra
Bramwell Tovey, conductor
Gautier Capuçon, cello – Blossom Festival debut
Kent Blossom Chamber Orchestra*
BRITTEN  Four Sea Interludes from Peter Grimes
SAINT-SAËNS  Cello Concerto No.1
ELGAR  Enigma Variations*
Do you like puzzles? Legend has it there's a hidden melody in Edward Elgar's eminent score, which features 14 variations on an original theme — each a separate musical draft about a friend or family member. His ninth variation, called Nimrod, has been widely adapted for films such asDunkirk and Elizabeth.
The Kent Blossom Music Festival began when The Cleveland Orchestra and Kent State University launched a partnership in 1968, the year Blossom Music Center opened. For five weeks in June and July, Kent Blossom Music Festival's advanced training program brings musicians from around the world to Ohio for professional training in chamber music and orchestral studies with members of The Cleveland Orchestra and other faculty. Festival participants will perform side-by-side with The Cleveland Orchestra and also present a pre-concert program of music beginning at 7:00 p.m. 
ARETHA: QUEEN OF SOUL
Sunday, July 28, 2019, at 7:00 p.m.
The Cleveland Orchestra
Lucas Waldin, conductor – Cleveland Orchestra debut
Capathia Jenkins, vocalist
Ryan Shaw, vocalist – Cleveland Orchestra debut
Blossom Festival Chorus
Named the greatest singer of all time by Rolling Stone magazine, Aretha Franklin was the undisputed Queen of Soul during her 61-year career. Hear R&B standards such as "Respect," "Chain of Fools," and "(You Make Me Feel Like) A Natural Woman," performed by Blossom favorite, Capathia Jenkins.
BEETHOVEN'S EMPEROR
Saturday, August 3, 2019, at 8:00 p.m.
The Cleveland Orchestra
Andrey Boreyko, conductor – Blossom Festival debut
Francesco Piemontesi, piano
BEETHOVEN  Piano Concerto No. 5 ("Emperor")
ZEMLINSKY  Die Seejungfrau [The Mermaid]
Here's a chance to be treated like royalty when celebrated pianist Francesco Piemontesi performs Beethoven's most famous concerto, nicknamed Emperor, which was dedicated to his patron and pupil — Archduke Rudolf of Austria.
BRAHMS'S FIRST
Saturday, August 10, 2019, at 8:00 p.m.
The Cleveland Orchestra
Asher Fisch, conductor
Jung-Min Amy Lee, violin
LISZT  Mazeppa, Symphonic Poem No. 6
BARBER  Violin Concerto
BRAHMS  Symphony No. 1
After famously informing friend Clara Schumann that he'd nearly finished his first symphony following six years of work — "Thus blew the shepherd's horn today!" — Brahms took another eight years to complete the piece. Join us for a summertime presentation of the fastidious composer's Alphorn tune in concert.
BRIAN WILSON PRESENTS PET SOUNDS
Sunday, August 11, 2019, at 7:00 p.m.
Blossom Festival Orchestra
Lucas Richman, conductor
Brian Wilson, vocalist – Cleveland Orchestra debut
Al Jardine, vocalist – Cleveland Orchestra debut
Blondie Chaplin, vocalist – Cleveland Orchestra debut
Co-founder of iconic California rockers The Beach Boys, Brian Wilson — accompanied by bandmates Al Jardine and Blondie Chaplin — will play summertime favorites from the group's influential 1966 album Pet Sounds, including "Wouldn't It Be Nice," "Sloop John B" and "God Only Knows," along with other greatest hits.
SYMPHONIC DANCES
Saturday, August 17, 2019, at 8:00 p.m.
Vinay Parameswaran, conductor
Jennifer Johnson Cano, mezzo-soprano – Blossom Festival debut
IVES  "Decoration Day" from A Symphony: Holidays
BERNSTEIN  Symphony No. 1 ("Jeremiah")
RACHMANINOFF  Symphonic Dances
Composed near the shores of New York's Long Island Sound, Rachmaninoff's final score features lush harmonies and originally included movements with names like "Twilight" and "Midnight." It's an ideal interlude for a splendid summer evening.
THE SOUND OF MUSIC IN CONCERT
Saturday, August 24, 2019, at 8:00 p.m.
The Cleveland Orchestra
Andy Einhorn, conductor
Victoria Bussert, director
In collaboration with the Baldwin Wallace Music Theater program
RODGERS  The Sound of Music (full musical in concert performance)
Spend a night with the Von Trapp Family during a collaboration between The Cleveland Orchestra and members of the Baldwin Wallace University Music Theater program in this beloved Rodgers & Hammerstein classic, featuring treasured tunes such as "Do-Re-Mi," "My Favorite Things," and "Climb Ev'ry Mountain."
STAR WARS: THE EMPIRE STRIKES BACKTM LIVE
Friday, August 30, 2019, at 7:30 p.m.*
Saturday, August 31, 2019, at 7:30 p.m.*
Sunday, September 1, 2019, at 7:30 p.m.*
The Cleveland Orchestra
Sarah Hicks, conductor
WILLIAMS  Star Wars: The Empire Strikes BackTM (film with live orchestral score)
See the second installment of the original Star Wars trilogy on Blossom's enormous screen — complemented by a live performance from The Cleveland Orchestra, who'll have plenty of chances to play composer John Williams's fearsome "Imperial March (Darth Vader's Theme)."
*Denotes fireworks following the concert, weather permitting.

Presentation of Star Wars: The Empire Strikes Back" licensed by Disney Concerts in association with 20th Century Fox, Lucasfilm Ltd. and Warner/Chappell Music.
All programs, artists, and prices are subject to change.
Tess Abney is a freelance writer who was born and raised in the Quad Cities. She spends most of her time attempting to successfully raise three boys. In her free time, writing is her passion. Whether it is sharing local events and businesses with readers or sharing her thoughts on life, she finds comfort in the way words can bring people together.